Intel, Micron Cram 8 Gigs of Chip Into 4-Gig Bag
By Richard Adhikari
Feb 1, 2010 11:37 AM PT
Intel and Micron have jointly announced what may be the world's smallest, densest NAND flash memory device yet.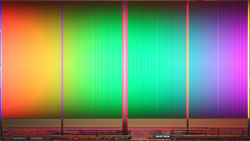 Intel and Micron have announced the world's first 25nm-flash memory device -- the smallest process technology in the semiconductor industry.
(click image to enlarge)
Their 25-nanometer (25nm) NAND flash semiconductor offers 8 GB of memory in a single NAND processor. This could pave the way for higher-capacity storage for consumer devices.
The 25nm NAND semiconductor is sampling now; it will be in production in the second quarter of 2010.
Chip Sandwich
For consumer electronics manufacturers, the 25nn NAND processor provides the highest density in a single two bits-per-cell multi-level cell die that will fit an industry-standard, thin small-outline package, Intel said. Multiple 8 GB processors can be stacked in a package to increase storage capacity.
The processor measures 167 square millimeters. Put another way, it will fit through the hole in the middle of a CD. However, it has more than 10 times the 700 MB capacity of a CD.
The 25nm, 8 GB processors cut chip count by half compared to previous processors. For example, a 256 GB solid-state disk (SSD) will use 32 of these processors instead of the 64 older-generation NAND flash processors previously required, Intel said.
The 25nm NAND flash processor is being produced by IM Flash Technologies, a joint venture between Intel and Micron set up in 2006.
More NAND Bang for the Buck
Manufacturers of consumer devices and SSDs will leverage the 25nm NAND flash processors' small size to cram more memory into their products and cut prices, Carl Howe, director of anywhere research at the Yankee Group, told TechNewsWorld.
"Most of the cost in any of these devices scales with the number of chips, so if it takes 32 chips to create a 256 GB solid state disk instead of 64, reliability goes up because there are fewer parts, and cost goes down," Howe explained. "So, the capacity of solid state disks will get lots bigger."
Most SSD manufacturers use flash memory in their products for its durability and ruggedness.
Currently, flash memory is used primarily in smartphones, memory cards and USB flash drives. The technology is non-volatile, so flash memory chips do not require power to maintain information stored in them. Further, flash memory is very durable and can take physical shocks better than DRAM memory.
Taking a Bite Out of Apple?
Will the new, denser NAND flash processors impact Apple? Cupertino has managed to keep down costs while increasing profits by prepurchasing components and leveraging economies of scale.
Apple is one of the biggest users of flash memory, gobbling it up for its iPod and iPhone. It made a US$500 million prepayment to Toshiba for flash memory chips in July -- will that leave it stuck with the older technology?
Not likely, Howe contended. "Apple probably has committed that preorder to production so the fact that there's something newer and denser is interesting data but probably doesn't impact its six- to 12-month plan," he explained.
"Apple's got more products out now, and I'd guess $500 million worth of NAND flash will probably be one quarter's supply," Howe said.