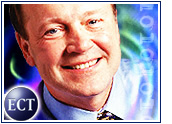 Cisco Systems blew past Wall Street targets for revenue and earnings in its first quarter as telecommunications companies, government agencies and consumers helped power the Internet gear maker's sales to strong growth.
The company said revenue in the quarter totaled US$5.1 billion, up from $4.8 billion in the same period last year, a gain of about 5 percent. The quarter marked the first time since early 2001 that Cisco saw sales above the $5 billion level. Wall Street had been looking for the company to bring in just under $4.9 billion.
Cisco also beat profit targets, posting earnings of 15 cents per share, up from 8 cents per share a year ago. Shares of the gear maker rose nearly 6 percent to $23.02 in early trading Thursday.
Powering Up
Cisco said it saw stronger sales in almost all of its business units, but especially in sales to consumers, who bought record amounts of home networking gear from the company's Linksys unit, and Internet service providers. The return of ISPs and other telecoms to the buying table may represent the surest sign yet that tech spending is in rebound mode. The telecom sector was among the most severely ravaged by the downturn in spending.
Cisco CEO John Chambers said moves Cisco made as long as three years ago to prepare for the eventual end of the downturn now are paying dividends. However, he said, the company still gets mixed signals from customers.
"About half the CEOs I talk with in the U.S. describe their position as having the wind at their backs for the first time in a long time," Chambers said in a conference call. "We are continuing to see signs that could be interpreted — with the appropriate caveats — as optimistic."
One weak spot was Cisco's storage area network division, which did not keep pace with sales growth in other areas, including routers, switches, newer products and innovations, such as IP telephone systems and wireless local area network hot-spot gear.
Rising Tide or One Boat?
Analysts say real evidence that telecoms are once again spending more freely on gear, which would provide the tech sector with a major boost, will come when other companies in the sector also report that sales are rebounding.
"Without across-the-board gains, it's hard to tell if Cisco is just executing better or if buyers are coming back in force," Gartner analyst Rachna Ahlawat told the E-Commerce Times.
The consumer gains Cisco saw are unlikely to be seen elsewhere, Ahlawat added, because Linksys dominates that market. "If the big switch buyers are back in the game, that will show up in other companies' earnings," he said.