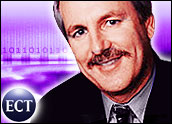 In this, the second of three parts of my Consumer Electronics Show review, let's take a look at how some of the big wars played out at this year's show, where some emerged as winners, some as losers. Then I'll review some of the breakout products from last year's CES and what looked better in comparison this time around.
Apple: Increasingly the CE Vendor to Watch
The Apple-vs.-everyone else competition during this year's show and during MacWorld, which took place a week later, was solidly focused on two new Intel-equipped Apple personal computers. The ones Apple showed, though, had the same external, industrial design as earlier models and for this and other reasons, MacWorld didn't hold a candle to CES. But that would be like saying a Toyota Pickup doesn't hold a candle to a Mack truck, and there are good reasons for saying this.
Apple doesn't, and doesn't have to, showcase products months before they are released. Apple, for the most part, sells direct these days, like Dell. That means the only people who really need to know what is coming are Apple employees, and you just don't need, or want, a show for that. It upsets the retailers but if they haven't figured out by now that Apple really doesn't care about them they aren't using their brains.
We'll see new products from Apple when they are ready to sell them and generally not before. New consumer products, like the iPod, will be released in the second part of the year. By delaying their unveilings, Apple has time to look at what was shown at CES and tweak their own offerings. A number of other consumer manufacturers do the same thing; why warn your competitors if you don't have to?
Think of these initial Intel technology products more as beta tests for the hardware. Intel is new to Apple and is a dramatically different company to work with than Motorola or IBM. This relationship will be like a marriage of two super-celebrities: up until now it's been great for the press and the parties, but going forward it will be a marriage like any other — with most of it being anything but a honeymoon.
Big Advantages
Initial runs of a new processor tend to be relatively small. Apple is now sharing manufacturing capacity with every other PC company on the planet and where they fall in terms of priority depends on volume. At current volumes they fall way back in the pack — this suggests their upcoming rollouts will be on the cautious side. By mid-year Apple and Intel should have hit their stride. We should see fully refreshed lines from Apple at that time. I'll hold off on a comparison until then, when there will also be refreshed lines from other PC makers.
When it comes to consumer electronics the iPod, with around 40 million units sold, remains king. While there were music services at CES that, in my opinion, were better than iTunes (Yahoo's for instance), I can't point to a single hardware product that even came close to the Nano. A number of video products shown were better than the video iPod, but most consumers currently buy Apple's video iPod for music as well as video, and the other video products available were not as good for playing music.
No one seems to have figured out that Apple has two sustaining advantages. They out-market everyone else with solid benefits-based campaigns and they have a connector that allows them the same kind of advantages that Microsoft has enjoyed with software: the strongest third-party support on accessories of any vendor in their class. In this regard, Sony is number two, mainly with their PlayStation Portable console.
With these advantages, the market remains Apple's regardless of the company's ongoing digital rights management issues. Of course, eventually someone will step up, but it looks like that that won't happen until after 2006. Until then Apple's biggest problem will be market saturation with their own products, a problem they now share with Microsoft. I should point out there is a rumored "iPod Killer" in the works at Microsoft coming out of their new media group, and another from HP. If these emerge, the competition will surely become anything but easy.
A Year of Progress
Now, let's compare some hot products from last year's CES to those from CES 2006. Recently I reread my review of CES 2005 and found that a surprising number of products that stood out last year are still hot this year, many as market leaders. Here are some of this year's standouts:
Learning From '05 Flops
These products looked promising at last year's show, but things didn't quite work out as planned:
The HP Media Hub: Never made it to market. Based on Linux, its costs grew out of proportion to its targeted selling price. HP has doubled down on monitors and had some of the strongest monitor lines at the show. Though the Media Hub never broke out, it continues to lead in the Media Center space.
RCA Scenium DLP TV: A wall-mounted projection TV remains very cool but a combination of poor PR, poor marketing, an excessive price, and the stated intention of Thompson Electronics to leave the consumer electronics market all combined to ensure this product wouldn't sell well. Initially priced in the US$8,000 range you could find it for under $4,000 by year end but it never became as hot as it could have.
Wireless displays: I can still remember a time when all TVs were essentially wireless. The technology from a company called ViXS used WiFi to move the signal to the TV from a remote set top box making wiring a flat panel vastly easier. It never went anyplace. The only wireless flat panel I saw in 2006 was from HP and it was a full Media Center Extender.
Challenge Continues
At the end of my 2005 CES recap column I said:
"I'm still hoping to see a vendor combine the installation and appliance-like experience of the TiVo, the user interface of the Digeo Moxie, the infrastructure of the Microsoft Media Center, and the product range of Samsung."
I'd say the same thing this year except that in many ways things seem to have become more complex and difficult — and many of the breakout products I expected to see simply didn't happen. Not only did Apple remain dominant, the company got even MORE dominant. Their biggest challenge, as I said, is reaching market saturation with their own products.
In part three next week, I'll talk about what a good CE product should look like and why we're not seeing them much, plus, why I think CES may be headed along the same path toward obscurity that Comdex took. I'll also do a final top CES 2006 products list.
---
Rob Enderle
, a TechNewsWorld columnist, is the Principal Analyst for the
Enderle Group
, a consultancy that focuses on personal technology products and trends.
---