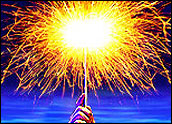 An alarming failure rate for new products has corporations looking to consumers to drive innovation in their markets, according to report released by Forrester Research.
"In the consumer products industry, upwards of 85 percent of new products fail after a couple of years in the market," the report's chief author, analyst Christine Spivey Overby, told the E-Commerce Times.
"I've also seen data that suggests only 15 percent of new products produce more than US$7 million in revenue in their first year," she added.
That may sound like a lot of money, but when a company spends $100 million to develop a product, it doesn't want to wait more than 10 years just to recoup that investment.
Driven by ROI
Overby explained that businesses, especially large corporations, are spending millions on product development and are under increased pressure to boost their ROI — Return On Investment — on a new product. That's inducing them to give consumers a greater role in the process.
"They understand that listening to consumers improves things like consumer loyalty and brand favorability," she said.
"So there are marketing drivers," she continued, "that are causing companies to rethink the way they involve consumers in the innovation and product development process."
Balance of Power Shifting
Consumers are also showing a growing independence and heightened skepticism about traditional sources for product information, noted the Forrester report, a copy of which was obtained by the E-Commerce Times.
"Consumers are more independent than ever," the report said. "Most do not trust traditional media — only 7 percent believe that companies generally tell the truth in ads — and nearly half believe that price is more important than brand.
"With the balance of power shifting from institutions to individuals, companies can't afford to disappoint when consumers reach out," it added.
Listening Methods Inadequate
Although corporations need to listen more to consumers, the report asserted that the methods used by businesses to collect consumer feedback are inadequate because:
They're biased. Information is collected at a point too distant from where a consumer buys or uses a product.
They're too expensive. At $20,000 to $25,000 a pop, tools like focus groups can only be used in a limited way.
They're too slow. Ethnographic studies can take weeks or months to complete.
They're imprecise. Companies often miss the mark in determining the proper test markets for a new product.
They're misdirected. Businesses trying to garner feedback through call centers tend to reward their operators' efficiency in handling calls, not the insights they may glean from callers.
Hard to Share Insights
If a company appears to be turning a deaf ear to consumers, it may not be entirely its fault, Overby observed.
"Companies have had this mantra of listening to the voice of the customer for years," she said. "We've heard it so much that it's become trite in the business world, but the mechanisms for listening have been limited.
"They require a highly trained, specialized individual who understands market research to execute them," she continued. "And it's difficult to share the insights across an organization because oftentimes they're quantitative in nature."
Democratizing Innovation
The opening up of the new product process to consumers is resulting in a democratization of innovation, according to Eric von Hippel, a professor at the MIT Sloan School of Management in Cambridge, Mass. and author of Democratizing Innovation, published in April by The MIT Press.
"Users are responding to their dissatisfaction with new products by innovating," he told the E-Commerce Times.
"It's getting cheaper and cheaper to do that," he continued, "because of the Internet — where they can quickly form communities — and companies can provide them with toolkits to make innovation easy for them."
The classic example of that is custom integrated circuits, he said. Demand for those ICs were driven by customers with very diverse needs and manufacturers that couldn't afford to understand all those needs. So the manufacturers developed toolkits that allowed their customers to design their own chips.
Lead User
An important character in the democratization process, von Hippel explained, is the "lead user."
"The lead user is at the head of a market trend and expects to benefit a lot by getting exactly the product that he needs," he said.
"Lead users develop what they need," he continued, "and then manufacturers, when the market becomes bigger, produce the product for everybody else."