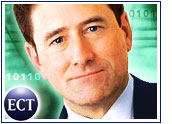 PeopleSoft shocked the business world this morning by announcing that it had fired Craig Conway as president and CEO, effective immediately.
Dave Duffield, the company's founder, stepped into the CEO position, and the presidency will by shared by two men, Kevin Parker and Phil Wilmington.
The news seemed especially surprising given that the company also announced today that both revenue and new business are up for the company — quite a feat amidst the furor over Oracle's hostile takeover bid.
The move could signal a shift in the company's stance towards Oracle.
Unrelated to Oracle?
The official statement from PeopleSoft said that by unanimous decision the board of directors found Conway unable to continue to lead the company.
On a conference call this morning attended by thousands of stakeholders and devoted primarily to the upbeat sales figures, the company insisted that Conway's termination had nothing to do with Oracle's 16-month-old takeover attempt.
Analysts didn't buy it. "Even though they said this has nothing to do with Oracle, that's the only thing I can consider," Sherryl Kingstone, program manager at the Yankee Group, told CRM Buyer after participating in the PeopleSoft conference call. "It can't not be about the Oracle deal."
Future of PeopleSoft
"Craig Conway has been constantly trying to fight the battle," Kingstone said. "He has constantly argued on every point why Oracle should not acquire PeopleSoft."
Conway fought the bid so strongly that he might not have been able to step back from that stance even if the board wanted him to do so.
In Duffield, however, PeopleSoft "may have the ability to have a bit more open discussion about the takeover," Kingstone said. He has the opportunity to change the dynamic of the conversations, to choose to be less adversarial if he thinks the acquisition will benefit customers and shareholders.
Shareholders and Customers
Duffield has served as the chairman of the PeopleSoft board since its incorporation in 1987 and acted as CEO from August 1987 through September 1999, doubling as president between August 1987 and May 1999.
"Oracle's acquisition is excellent for shareholders, but they're not exactly clear on whether its good for customers," Kingstone continued.
"Dave Duffield is the founder and has the customer in mind." Under his leadership, analysts say, PeopleSoft's future may become clearer — and that future could well be with Oracle.