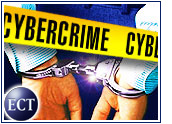 ---
If you do business on the Internet, you cannot afford to be uninformed about the dangers and pitfalls that cybercrime poses. The following is a daily survey of the latest cybercrime news from around the world.
---
Computer User: Denial of Service Attacks Planned For Christmas 20-Nov-00 03:20:01 ET
Story Highlights:"X-Force, the research and development (R&D) team of Internet Security Systems [Nasdaq: ISSX] (ISS), has warned that hackers are planning an online attack-fest this coming Christmas…"
* * *
"The attacks, if they occur, will take the form of distributed denial of service (DDoS) invasions, a hacker flooding technique used earlier this year — and since — to effectively flood out a major Web site and prevent normal users from gaining access, ISS said…"
---
Bloomberg: Experts Warn About Security as Internet Voting Gains Ground 17-Nov-00 19:48:23 ET
Story Highlights:"Vote by Internet? It sounds easy, especially compared with a Florida punch card. But as some states move cautiously to embrace Web voting, experts warn that it is far from the simple, secure system voters may assume…"
* * *
"The least secure arrangement, these experts say, is the one voters would find most attractive — logging on at home or the office and casting an electronic ballot. This scenario doesn't seem likely soon, although some analysts say a carefully tested Internet-based system that would still require visits to polling places might be used…"
---
ZDNET UK: Teleworking Causes Serious Security Threat 20-Nov-00 04:33:46 ET
Story Highlights:"In the wake of the hack into Microsoft's network, many security administrators have turned their attention to what some believe is the greatest security challenge facing corporations: teleworkers…"
* * *
"The problem is both social and technical, experts say. For one, users on home machines behave differently, even if they're accessing work assets and if policies are in place. They tend to disable security when…"
---
MSNBC: Lock Hackers out of Your Small Biz 19-Nov-00 18:34:19 ET
Story Highlights:"The two owners of a Web consulting firm were puzzled. Last summer the Maine businessmen worked on financial information and planning documents on one of their companys computers. The next morning those files were gone. The electronic documents werent deleted; that would have left traces…"
* * *
"All computers are at risk of intrusion when connected to the Internet. Small businesses are particularly vulnerable. The inconvenience and cost of being hacked can easily cripple a young company. Learning how hacks occur and figuring out ways to offset them…"
---
MSNBC: Is Your Network Safe? 19-Nov-00 18:34:18 ET
Story Highlights:"Feel sorry for Microsoft? Who wouldve thought it? Yet its hard not to have at least some sympathy for the software giant lately. In October someone broke into its network and rummaged around for almost two weeks, sending valuable product source code to Russia…"
* * *
"Days later, a Dutch hacker exploited a software flaw in a Web server in order to gain access to one of Microsofts machines. Still, security experts say that Microsoft has top people heading its internal-security efforts and…"
---
For more of the latest e-business and technology news from around the world, updated 24 hours a day, visit
TechNewsWorld.com
.
---