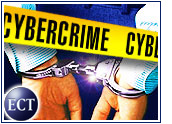 ---
If you do business on the Internet, you cannot afford to be uninformed about the dangers and pitfalls that cybercrime poses. The following is a daily survey of the latest cybercrime news from around the world.
---
Nando Times: 55,000 Credit Card Numbers Stolen, Posted By Hacker 14-Dec-00 01:11:01 ET
Story Highlights:"A hacker penetrated an Internet company's database of credit card numbers and posted more than 55,000 of them to a Web site when his ransom demands weren't met…"
* * *
"Creditcards.com sent an e-mail to its merchants Monday telling them that hackers contacted the company about three months ago with a threat to post the credit card information unless it paid a sum of money. The company said it immediately adopted a policy that it would not submit to extortion…"
---
Newsbytes: FBI: No Arrest In Creditcards.com Caper 13-Dec-00 21:41:44 ET
Story Highlights:"A rogue Web site purported to contain credit card data taken by a hacker from Creditcards.com is no longer accessible, and the FBI denies reports that a suspect in the case has been arrested…"
* * *
"'Any simple hacker can get into Creditcards.com where your confident information stored,' said the poorly written message, putting the number of exposed credit cards at 55,000. There was no official confirmation by the company or FBI agents that the data was taken from Creditcards.com…"
---
Newsbytes: Actor Played Hacker Role Too Well 13-Dec-00 22:11:42 ET
Story Highlights:"An aspiring actor faces a preliminary hearing Dec. 21 in Los Angeles County Superior Court on charges of computer fraud and theft…"
* * *
"Chad Horton, 21, of Macon, Ga., is accused of hacking into the system at Beverly Hills, Calif.-based Breakdown Services and stealing lists of acting jobs. The lists, known as 'breakdowns,' consist of synopses of characters in scripts and are sold to casting directors and talent representatives, the company said…"
---
ZDNET UK: Outrage Over Privacy Violation In Cybercrime Treaty 14-Dec-00 04:55:41 ET
Story Highlights:"A coalition of 22 human rights and public policy organisations say the Council of Europe's latest draft of an international cybercrime treaty gives law enforcement too much power and individuals too little…"
* * *
"'To our dismay and alarm, the convention continues to be a document that threatens the rights of the individual while extending the powers of police authorities, creates a low-barrier protection of rights uniformly across borders and ignores highly regarded data protection principles,' coalition members wrote in a letter…"
---
TechWeb: Cybercrime Pact Steps On Privacy, Groups Say 13-Dec-00 20:27:37 ET
Story Highlights:"Civil-liberties groups blasted a proposed treaty designed to build an international framework for fighting computer crime, saying it favored law enforcement at the expense of individual privacy…"
* * *
"Global Internet Liberty Campaign, a coalition of 30 human-rights and technology groups, said Wednesday that the proposed Convention on Cyber Crime would undermine network security, reduce government accountability, and improperly lengthen the reach of law enforcement…"
---
Globe Technology: Canada Lags In Cybercrime Laws 14-Dec-00 04:15:46 ET
Story Highlights:"Canada is a laggard in enacting laws to crack down on cybercrimes, indicates a recent report by a United Nations-sponsored network of Internet policy officials…"
* * *
"But Canada is ahead of nearly two-thirds of the 52 countries surveyed by McConnell. Thirty-three nations have yet to update their criminal codes to deal with offenses against computers or networks, according to…"
Full Story on Globe Technology
---
AsiaBizTech Japan: MTX Increases Virus Discoveries To Record High In November 13-Dec-00 22:12:28 ET
Story Highlights:"The number of reports on computer viruses through Nov. 1-30 amounted to 2,203, surpassing the past record of 906 for October 2000, the Information-technology Promotion Agency of Japan said…"
* * *
"IPA published discoveries of computer viruses and damages for November 2000. Reports on damage done numbered 546, accounting for nearly 40 percent of all reports. This was also the worst in history, IPA said, adding that…"
Full Story on AsiaBizTech Japan
---
For more of the latest e-business and technology news from around the world, updated 24 hours a day, visit
TechNewsWorld.com
.
---