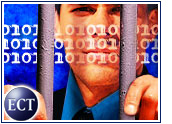 ---
If you do business on the Internet, you cannot afford to be uninformed about the dangers and pitfalls that cybercrime poses. The following is a daily survey of the latest cybercrime news from around the world.
---
CNET News.com: Egghead Silent, Customers Angry 02-Jan-01 16:39:36 ET
Story Highlights:"Nearly two weeks after an intruder cracked into Egghead.com's computer systems, the online retailer is still mum on whether any credit card numbers were stolen from its 3.7 million-customer database…"
* * *
"Representatives for Egghead and for the San Francisco office of the FBI confirmed Tuesday that investigations were continuing, but they would not provide details. Customers, however, were talking…"
---
CBS News: Teen Hacker Pleads Guilty 02-Jan-01 15:28:25 ET
Story Highlights:"A teen-age hacker who was briefly linked to a highly publicized series of hacking attacks against major companies pleaded guilty Tuesday to three misdemeanors…"
* * *
"He went onto the DARE site twice a year ago, defacing it with pro-drug slogans and images, including one depicting Donald Duck with a hypodermic syringe in his arm…"
---
ZDNET UK: Hackers Assasinate Game Characters 02-Jan-01 13:24:30 ET
Story Highlights:"Online gamers on Monday saw their champion characters mercilessly killed off by computer hackers who gained access to their players through a security hole in Blizzard Entertainment's games server…"
* * *
"Last week infiltrators exploited a vulnerability in the sign-in system to gain access to numerous player accounts. At first they began to discard valuable items belonging to these players…"
---
Newsbytes: No Big DDoS Attacks On New Year's Eve 02-Jan-01 20:41:03 ET
Story Highlights:"The World Wide Web seems to have rung in the new year without witnessing any of the massive cyber attacks feared by government computer security experts, the National Infrastructure Protection Center (NIPC) said today…"
* * *
"The NIPC — the FBI's cybercrime division — had urged system administrators to beef up security in Web servers and network firewalls before New Year's weekend…"
---
CNET News.com: New Year's Weekend Passes Without Cyberattacks 02-Jan-01 18:09:21 ET
Story Highlights:"Projected cyberattacks failed to significantly disrupt Web sites over the New Year weekend, the U.S. government said Tuesday…"
* * *
"'As of today, we still have had no large or huge amounts of reported incidents,' said spokeswoman Debbie Weireman. Denial-of-service attacks knocked out high-profile Web sites such as those of Yahoo!, Amazon.com and eBay for several hours last February…"
---
Computer User: Computer Associates Warns Of First Virus Of 2001 03-Jan-01 03:10:36 ET
Story Highlights:"Computer Associates has issued the first virus warning of 2001 to its customers, advising them of a low-to-medium risk e-mail worm called Tqll-A…"
* * *
"Also known as VBS/Tqll-A, the virus is said to be the latest MS-Outlook-based e-mail worm threat. CA says that Tqll-A arrives as an e-mail with…"
---
For more of the latest e-business and technology news from around the world, updated 24 hours a day, visit TechNewsWorld.com.
---