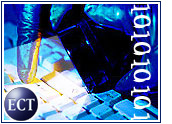 ---
If you do business on the Internet, you cannot afford to be uninformed about the dangers and pitfalls that cybercrime poses. The following is a daily survey of the latest cybercrime news from around the world.
---
MSNBC: Los Alamos Man Charged in Hack 10-Jan-01 20:39:13 ET
Story Highlights:"The U.S. Attorneys Office in San Francisco indicted an employee of Los Alamos National Laboratory Tuesday and charged him with 16 counts of computer hacking…"
* * *
"According to assistant U.S. Attorney Matthew J. Jacobs, the charges stem from computer intrusions Heckenkamp performed before he was hired at Los Alamos…"
---
CNN: Los Alamos Lab Employee Arrested for Alleged Hacking 11-Jan-01 04:11:08 ET
Story Highlights:"A current employee of the Los Alamos National Laboratory, the nation's top nuclear weapons research facility, has been arrested on charges of computer hacking and tampering with a witness while a student, the U.S. Attorney's Office said Wednesday…"
* * *
"A senior lab official stressed that all of the charges related to activity before the suspect joined the staff at Los Alamos…"
---
Newsbytes: Los Alamos Nuclear Lab Worker Charged With Hacking 11-Jan-01 00:10:53 ET
Story Highlights:"An employee of the nuclear weapons facility in Los Alamos, N.M., has been charged with computer hacking and witness tampering, federal prosecutors said today…"
* * *
"Jerome T. Heckenkamp, 21, was named in a 16-count indictment returned on Dec. 13 by a federal grand jury in San Francisco. Allegedly using the names MagicFX and Magic, Heckenkamp hacked into computers and…"
---
Newsbytes: FBI Targets 7 Hackers In Planned New Year's Eve Virus Attack 11-Jan-01 11:57:04 ET
Story Highlights:"The FBI is conducting an investigation into a ring of seven juvenile hackers — three in the U.S. and four based overseas — suspected of plotting a series of virus and widespread denial-of-service attacks…"
* * *
"No arrests have been made yet in the case, but several FBI field offices have conducted a series of 'preemptive' search warrants over the past two weeks to…"
---
For more of the latest e-business and technology news from around the world, updated 24 hours a day, visit TechNewsWorld.com.
---