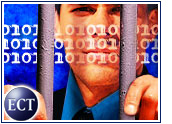 ---
If you do business on the Internet, you cannot afford to be uninformed about the dangers and pitfalls that cybercrime poses. The following is a daily survey of the latest cybercrime news from around the world.
---
TheStandard.Com: Was There a Global Youth Plot to Cripple the Web? 14-Jan-01 17:09:04 ET
Story Highlights:"A group of teen and young adult computer hackers allegedly planned an international conspiracy in which they hoped to 'take down the Internet' on New Year's Eve, federal agents in Los Angeles said on Friday…"
* * *
"The Federal Bureau of Investigation said it has seized computers, floppy disks, CD-ROMs and other related equipment for further investigation but have not made any arrests in the United States. FBI special agent Matt McLaughlin said four Israeli youths were arrested…"
---
Computer User: Pro-Napster Campaign Earns Teenager an FBI File 15-Jan-01 02:10:11 ET
Story Highlights:"A California teenager who last year showed his support for Napster and its music-sharing network by defacing the home pages of Web sites — including some operated by the U.S. military — may have let his penchant for self-promotion telegraph his whereabouts to authorities…"
* * *
"Robert Lyttle, a high school student in Pleasant Hill, Calif., claims he is the hacker who uses the pseudonym 'Pimpshiz' and who for a number of months last year broke in to dozens of Web servers…"
---
ZDNET UK: 'Pimpshiz' Speaks — With Pride 15-Jan-01 04:54:46 ET
Story Highlights:"The law appears to have caught up with 'Pimpshiz,' the hacker allegedly responsible for defacing some 200 Web sites last year with pro-Napster graffiti…"
* * *
"On Friday, police investigating the Web site break-ins confirmed they had searched the Pleasant Hill, California home of a 17-year-old high school student and…"
---
Excite: Study: Japan Cybercrime Tripled 13-Jan-01 02:13:39 ET
Story Highlights:"Reports of computer viruses tripled last year in Japan as the increasingly networked nation felt the effects of the Love Bug and other potent strains, a government study said…"
* * *
"Authorities logged a total of 11,109 reports of viruses being sent to computers in Japan in 2000, the Yomiuri newspaper reported Saturday, citing a study by the government-affiliated Information Technology Promotion Agency. That was up from 3,645 reports the previous year…"
---
ZDNET UK: Firms Ignore Virus Patch 15-Jan-01 05:54:53 ET
Story Highlights:"The Kakworm virus was responsible for more help desk calls than the Love Letter virus during 2000…"
* * *
"This happened despite Microsoft providing a patch in 1999 to remove the error that Kakworm exploited. Kakworm appeared in January 2000 and was one of the top three viruses all year…"
---
Canada.com: U.S.-Based Computer Security Company To Host Computer-Hacking Contest 15-Jan-01 04:55:33 ET
Story Highlights:"Ladies and gentlemen, start your modems. OpenHack III, a computer-hacking contest sponsored by eWeek magazine, will feature some stiff competition when it opens Monday…"
* * *
"In the contest, hackers will have two weeks to complete four tasks related to corrupting a Web site protected by PitBull. There are prizes for being the first to complete each task, and a grand prize of $50,000 for being the first to complete…"
---
For more of the latest e-business and technology news from around the world, updated 24 hours a day, visit TechNewsWorld.com.
---