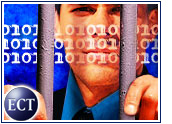 ---
If you do business on the Internet, you cannot afford to be uninformed about the dangers and pitfalls that cybercrime poses. The following is a daily survey of the latest cybercrime news from around the world.
---
Ananova: Hackers Replace Ariel Sharon Website 30-Jan-01 20:59:22 ET
Story Highlights:"The website of Ariel Sharon, favourite to win the Israeli election on February 6, has been removed by hackers. It has been replaced by a site criticising him and praising Palestinians…"
* * *
"The rogue site includes pictures and slogans praising the Palestinians and Hezbollah, the Lebanese guerrilla group that fought Israeli soldiers during an 18-year-long occupation of south Lebanon…"
---
ABCnews: In the Wake of Microsoft's Downed Sites, Web Infrastructure Reexamined 30-Jan-01 13:57:16 ET
Story Highlights:"The seesaw performance of Microsofts Web sites last week thrusts the safety and security of the Internet back into the spotlight. If technology powerhouse Microsoft is vulnerable, who isnt…?"
* * *
"The quick and easy answer is 'no one.' But experts say this doesn't hurt the overall health of the Web and its role in the growing field of e-commerce…"
---
ABCnews: Direct Hit 30-Jan-01 13:57:02 ET
Story Highlights:"After years of playing cat-and-mouse with hackers, the nation's leading provider of satellite TV service struck back with an electronic attack so overwhelming that pirates are…"
* * *
"DirecTV delivered a special signal to millions of receiver boxes in homes across North America last Sunday to shut down the unauthorized access cards used by hackers to capture scores of free channels…"
---
CNN: Source: Pentagon Reports 'No Damage' from Deutch Lapse 30-Jan-01 19:55:30 ET
Story Highlights:"The Pentagon has found that there was no damage to U.S. national security despite extensive computer security violations by former CIA chief John M. Deutch…"
* * *
"The Pentagon reported last year that while he was deputy defense secretary, Deutch maintained a daily journal containing classified information that was almost 1,000 pages long on a government laptop that was also used by Deutch and members of his family to access his AOL account…"
---
For more of the latest e-business and technology news from around the world, updated 24 hours a day, visit TechNewsWorld.com.
---