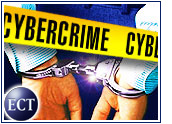 ---
If you do business on the Internet, you cannot afford to be uninformed about the dangers and pitfalls that cybercrime poses. The following is a daily survey of the latest cybercrime news from around the world.
---
Info World: Senator Proposes Spyware Security Bill 31-Jan-01 18:14:27 ET
Story Highlights:"A U.S. Senator has reintroduced a bill that seeks to protect the privacy of consumers from software that monitors their Web surfing habits…."
* * *
"Businesses that gather data would have to let users know what information has been assembled, provide a way to correct errors, and safeguard the data against unauthorized access by hackers…"
---
Newsbytes: Report Slams D.C. Agency's Computer Security Practices 31-Jan-01 20:10:10 ET
Story Highlights:"Computer Systems at more than 60 agencies in the District of Columbia remain at risk because of shoddy computer security…"
* * *
"'There is a certain economy of scale in putting things together under one roof, where they can share IT and security staff,' Richard Smith, a computer security expert and chief technology officer for the Denver-based Privacy Foundation said. 'But in most cases, the biggest threat to computer security comes not from outside hackers but from those…'"
---
LA Times: Pentagon: Shield Not Hurt by Deutch 31-Jan-01 17:58:25 ET
Story Highlights:"A Pentagon investigation found no evidence that national security was compromised by former senior Pentagon official John Deutch's practice of storing personal journals containing top secret information on his unsecured home computer…"
* * *
"Because Deutch used the same home computer to access the Internet through his America Online account, it was possible for a computer hacker to gain access to Deutch's personal journal. Recently, as a result of the Deutch case, the Pentagon has altered…"
---
Newsbytes: EU Seeks Comment On Cybercrime Initiatives 31-Jan-01 16:10:17 ET
Story Highlights:"The European Union's executive arm, the European Commission, Tuesday said it is seeking public comment on some of its upcoming initiatives in dealing with online crime…"
* * *
"The EC told the parliament that it is seeking a 'harmonized policy to combat computer crime and install necessary mechanisms, without hindering the rapid development of e-commerce…'"
---
For more of the latest e-business and technology news from around the world, updated 24 hours a day, visit TechNewsWorld.com.
---