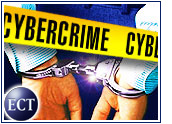 ---
If you do business on the Internet, you cannot afford to be uninformed about the dangers and pitfalls that cybercrime poses. The following is a daily survey of the latest cybercrime news from around the world.
---
Forbes: Web Security Firm NAI Deflects Attack 01-Feb-01 18:54:37 ET
Story Highlights:"Network Associates Inc. (Nasdaq: NETA), fresh from reporting flaws in software underpinning the Internet, said on Thursday its Web site had come under electronic attack…"
* * *
"The Santa Clara, Calif.-based network security and management software firm said it had detected a 'denial-of-service' blitz Wednesday night and took unspecified action to protect itself right away…"
---
Internet.com: Bugtraq List Accidentally Releases Virus 01-Feb-01 18:23:43 ET
Story Highlights:"The first program that exploits a newly discovered hole in the popular BIND software has been posted to a public mailing list. Source code to the program was posted anonymously to the Bugtraq security mailing list Wednesday night…"
* * *
"The program is considered to be a Trojan horse, and Bugtraq subscribers have been warning others on the list not to run the program…"
---
Info World: AOL Users Hit with Password-Stealing Virus 01-Feb-01 18:14:59 ET
Story Highlights:"Members of America Online were warned Thursday to be on the lookout for a Trojan horse virus that can steal their passwords, potentially allowing a hacker to access their e-mail and other personal information…"
* * *
"In the past 30 days reports of the virus have increased 100 percent, said April Goostree, a virus research manager at McAfee.com. It wasn't clear exactly how many users have been affected, but the number is 'significant,' Goostree said. The virus has been rated a medium risk for AOL users…"
---
Fairfax I.T.: AOL Australia Remains Calm Amid Trojan 'Scare' 01-Feb-01 20:09:11 ET
Story Highlights:"AOL Australia today said the company had been aware of a trojan virus spreading through the America Online e-mail network for almost a year…"
* * *
"Online computer new service CNet reported today that anti-virus software maker McAfee had issued a warning to users of the United States-based AOL service saying about 30 mutations of the trojan were continuing to spread…"
---
London Evening Standard: Hacker's Sabotage Threat Foiled 01-Feb-01 18:03:24 ET
Story Highlights:"A computer hacker is being questioned by Flying Squad detectives today after he threatened to sabotage the entire Barclays bank system unless he was given 200,000…"
* * *
"Police described the blackmail plot as 'enterprising' but it proved unsuccessful after he was caught by an undercover surveillance operation involving 30 officers. The blackmail attempt began at…"
Full Story on London Evening Standard
---
E-Commerce Times: In E-Commerce We Trust … Not 02-Feb-01 10:24:00 ET
Story Highlights:"Of the traditions we're most proud of, identity theft and credit card theft will likely not make the cut…"
* * *
"The U.S. government reports identity theft was the single biggest consumer complaint filed on its anti-fraud Web site last year. Of the 80,000 complaints filed, 23 percent involved stolen Social Security numbers or credit card accounts. If you're counting, that means 18,400 individual Americans fell victim to security breaches…"
Full Story on E-Commerce Times
---
Upside Today: Tech and the Law Go Hand-in-Hand 02-Feb-01 03:25:55 ET
Story Highlights:"Hardly anyone, including myself, could have predicted the hard times that now are upon us…"
* * *
"Starting with last year's frequent denial-of-service attacks and viruses such as the 'Love Bug,' cybercrime has been at center stage. The Computer Fraud and Abuse Act provides a basis for criminal prosecution. However, it has been very difficult to track down cybercriminals…"
---
For more of the latest e-business and technology news from around the world, updated 24 hours a day, visit TechNewsWorld.com.
---