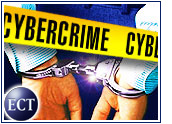 ---
If you do business on the Internet, you cannot afford to be uninformed about the dangers and pitfalls that cybercrime poses. The following is a daily survey of the latest cybercrime news from around the world.
---
Excite: Anti-Globalists Turn To Hacking 07-Feb-01 17:12:35 ET
Story Highlights:"The technicians at the World Trade Organization got a bit suspicious when 'journalists' in an online press conference went by screen names like 'NO-TO-WTO…'"
* * *
"Increasingly, social activists have turned to hacking to make their point, breaking into computer systems and wreaking havoc on organizations they oppose…"
---
ZDNET UK: 'Love Bug' Variant 'Cartolina' Sends European Postcards 08-Feb-01 05:23:12 ET
Story Highlights:"An Italian version of the 'Love Bug' was reportedly spreading across Europe Wednesday night, hitting at least ten companies in Germany, France and Italy…"
* * *
"According to reports so far, five companies in Italy, three in Germany and two in France have been infected by the bug known as 'Cartolina' or 'postcard' in Italian…"
---
Globe Technology: Security Flaw Found in Wireless Standard 08-Feb-01 08:57:58 ET
Story Highlights:"A team of Canadian and U.S. researchers has reported security flaws in the corporate standard for wireless computer networks that would allow hackers to break in and steal or modify data…"
* * *
"The researchers, two from the University of California at Berkeley and one from the private security firm Zero-Knowledge Systems Inc. of Montreal, said they have discovered ways to eavesdrop on or even disrupt the networks…"
Full Story on Globe Technology
---
Canoe: Cyber Security Big Item for Businesses Wary of the Next Mafiaboy 07-Feb-01 14:55:31 ET
Story Highlights:"With 'hacktivists' cracking into personal information of world leaders and the next Mafiaboy lurking in cyberspace, some people have opted to know the enemy…"
* * *
"'If they understand the offence, they can build a defence,' said Fugi Saito of Edmonton-based ZeroHype Technologies, which just added day-long hacking sessions to its training seminars…"
---
For more of the latest e-business and technology news from around the world, updated 24 hours a day, visit TechNewsWorld.com.
---