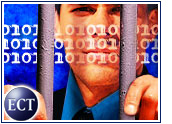 ---
If you do business on the Internet, you cannot afford to be uninformed about the dangers and pitfalls that cybercrime poses. The following is a daily survey of the latest cybercrime news from around the world.
---
ZDNET UK: Security Hampers E-Business
01-Mar-01 06:07:42 ET
Story Highlights:"Fears of computer hacking are breeding restrictive computer security measures and stopping companies from conducting business online, according to a report released by security company Evidian Wednesday…"
* * *
"Evidian conducted a survey of 40 blue chip companies in the UK and discovered that 40 percent see security as the biggest obstacle to carrying out business online…"
---
Excite: Proof May Lead to Unbreakable Code 28-Feb-01 15:41:22 ET
Story Highlights:"Cryptology experts are abuzz over a Harvard professor's claim that he can make an unbreakable code that can be used over and over again…"
* * *
"Computer science professor Michael Rabin, with the help of doctoral student Yanzhong Ding, developed a mathematical proof that experts say could be used to make a code indecipherable even by the most powerful computers…"
---
ZDNET: Australians Prosecute Hackers as Terrorists 28-Feb-01 23:08:32 ET
Story Highlights:"Hackers have become terrorists under U.K. law following the passage of The Terrorism Act 2000, which recognises the new threat from cyber-terrorists for the first time…"
* * *
"Under the Act, the definition of terrorism includes those actions that 'seriously interfere with or seriously disrupt an electronic system' and only when they are 'designed to influence the government or to intimidate the public…'"
---
For more of the latest e-business and technology news from around the world, updated 24 hours a day, visit TechNewsWorld.com.
---