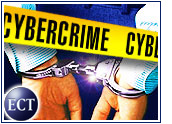 ---
If you do business on the Internet, you cannot afford to be uninformed about the dangers and pitfalls that cybercrime poses. The following is a daily survey of the latest cybercrime news from around the world.
---
CNN: Michigan Teen Accused of Hacking NASA Sites 14-Mar-01 08:56:39 ET
Story Highlights:"A 15-year-old Michigan boy has been charged with breaking into at least three NASA computer systems and altering their Web sites…"
* * *
"Stephen Nesbitt, who investigates computer break-ins at NASA's Office of Inspector General in Washington, said the teen-ager never got access to any sensitive information…"
---
Newsbytes: Teen Charged With Defacing NASA Web Sites 13-Mar-01 23:55:01 ET
Story Highlights:"A Michigan youth has been charged with defacing three NASA Web sites with images of a hacker gang known as the 'Electronic Souls,' the space agency said today…"
* * *
"The 15-year-old from Newaygo County in western Michigan also defaced a Department of Energy (DOE) site, said Stephen Nesbitt of the NASA's Office of the Inspector General…"
---
Info World: Updated Backdoor Program Increases Danger 14-Mar-01 05:12:38 ET
Story Highlights:"An updated version of the backdoor program SubSeven was released by its creator, a hacker known as 'mobman,' on Friday, according to the 'official' Web page of the program…"
* * *
"The SubSeven backdoor, which allows malicious hackers to access and control a user's computer without his or her knowledge, is 'one of the highest threats to Windows PCs, especially those running in broadband environments,' said Chris Rouland…"
---
ZDNET: Updated Backdoor Tool Gets Even Nastier 13-Mar-01 16:39:05 ET
Story Highlights:"A new version of SubSeven, a powerful and well-known backdoor program that gives attackers almost complete control over a victim's computer, is making the rounds on the Internet…"
* * *
"And taking a cue from legitimate software vendors, SubSeven's creator plans to release a SDK soon that will have a modular architecture, making it all the more difficult for intrusion-detection and anti-virus companies to stop…"
---
NUA: UK Firms Know Little of Technology-Related Risks 14-Mar-01 07:55:18 ET
Story Highlights:"Despite the publicity surrounding computer viruses and breaches of computer security, most UK companies are ignorant of technology-related risks…"
* * *
"According to a new study conducted by Mori and sponsored by risk management company Safeonline, there is a 'dangerously low level of awareness of risks from technology' among British companies…"
---
ZDNET UK: Antivirus Firms Develop Peer-to-Peer Protection 14-Mar-01 03:07:08 ET
Story Highlights:"Antivirus vendor McAfee is working on techniques designed to combat viruses engineered to spread through peer-to-peer applications such as the popular MP3 file sharing tools Napster and Gnutella…"
* * *
"In the case of Napster, this makes it possible for music files to be shared with considerable ease, although antivirus experts believe that it could enable other, more malicious files to also spread with epidemic speed…"
---
For more of the latest e-business and technology news from around the world, updated 24 hours a day, visit TechNewsWorld.com.
---