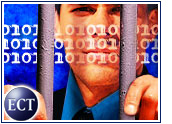 ---
If you do business on the Internet, you cannot afford to be uninformed about the dangers and pitfalls that cybercrime poses. The following is a daily survey of the latest cybercrime news from around the world.
---
Ananova: Microsoft Warns of Imposter 23-Mar-01 02:28:21 ET
Story Highlights:"Microsoft says an unauthorised party has obtained digital certificates that could enable someone to represent themselves as the software giant and deliver a computer virus to an unsuspecting recipient…"
* * *
"Someone posing as a Microsoft employee tricked Californian firm VeriSign into issuing the certificates on January 29 and 30…"
---
TheStandard.Com: Microsoft Falls Victim to Another Security Attack 22-Mar-01 19:55:04 ET
Story Highlights:"Software giant Microsoft (MSFT) has been hit by another security problem. This time, however, it's not the company's fault…"
* * *
"Someone tricked digital security specialist VeriSign (VRSN), which authenticates parties in e-commerce transactions, into issuing two digital certificates with Microsoft's name on them…"
---
Upside Today: VeriSign, Microsoft Warn of Hacker Danger 22-Mar-01 19:12:20 ET
Story Highlights:"Microsoft (MSFT) warned computers users today that two digital certificates were fraudulently obtained in the company's name and could be used to launch a virus attack…"
* * *
"Microsoft and VeriSign (VRSN) officials said two certificates were issued on Jan. 30 and Jan. 31 by VeriSign to someone posing as a Microsoft employee…"
---
NewsBytes: NSA's Rice Calls For Joint Web Security Effort 23-Mar-01 09:45:18 ET
Story Highlights:"The protection of the American infrastructure is an important part of the agenda of the National Security Council, according to President Bush's National Security Advisor, Condoleezza Rice…"
* * *
"Rice said that gaming exercises have revealed that a few well-organized hackers could disrupt a vast part of the national infrastructure…"
---
For more of the latest e-business and technology news from around the world, updated 24 hours a day, visit TechNewsWorld.com.
---