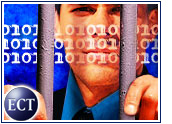 ---
If you do business on the Internet, you cannot afford to be uninformed about the dangers and pitfalls that cybercrime poses. The following is a daily survey of the latest cybercrime news from around the world.
---
Computer User: Fifty-Four Percent in U.S. Support FBI E-mail Snooping 04-Apr-01 03:10:13 ET
Story Highlights:"While an overwhelming majority of U.S. residents worry about Internet crime like child pornography and credit card theft, slightly more than half say it's OK for the FBI to monitor suspects' e-mail…"
* * *
"Only 14 percent say existing laws related to interception of telephone calls are adequate to cover Internet crime investigations…"
---
ComputerWeekly: Fraud Detection Tops Security Agenda 03-Apr-01 19:10:39 ET
Story Highlights:"Senior IT professionals expect fraud detection and the prevention of malicious cyber attacks to be their number one communications priority by the end of next year…"
* * *
"In a bid to increase awareness of cyber crime the Communications Management Association (CMA) announced the formation of an Institute for Communications Arbitration and Forensics (ICAF) on Tuesday…"
---
The Age: Computer Vandals Face 10 Years' Jail Under NSW Laws 04-Apr-01 00:43:42 ET
Story Highlights:"Online fraudsters and computer vandals who spread viruses face up to 10 years jail under new cyber crime laws introduced in the New South Wales parliament today…"
* * *
"Attorney-General Bob Debus said the NSW government would update its Crimes Act to ensure it covered cyber offences such as hacking into computers to destroy data…"
---
For more of the latest e-business and technology news from around the world, updated 24 hours a day, visit TechNewsWorld.com.
---