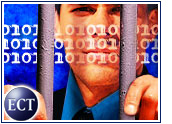 ---
If you do business on the Internet, you cannot afford to be uninformed about the dangers and pitfalls that cybercrime poses. The following is a daily survey of the latest cybercrime news from around the world.
---
Info World: Security Hole Found in FTP Servers 10-Apr-01 06:14:09 ET
Story Highlights:"PGP Security's Computer Vulnerability Emergency Response Team (COVERT) has notified three vendors that new vulnerabilities have been discovered in their FTP (file transfer protocol) server software…"
* * *
"The security holes could allow a hacker to break into the servers, steal data, deface Web sites or substitute false data for information a company provides to its customers…"
---
Ananova: Hacker Hits US Consumer Safety Commission 10-Apr-01 08:43:17 ET
Story Highlights:"A hacker posting cryptic threats written in Portuguese has defaced a major US government website…"
* * *
"The attack, which happened at the weekend, is one of many attributed to the same assailant in recent weeks…"
---
ZDNET UK: Microsoft Accused of Not Stamping on Bugs 10-Apr-01 03:08:14 ET
Story Highlights:"Microsoft has been accused of ignoring a major security problem affecting its software by a independent security expert…"
* * *
"Ante Kotarac, who operates the security Web site www.403-security.org, says that the problem affects Hyper Terminal, an application included with most versions of the Windows operating system that allows a user to establish a secure connection with another machine…"
---
The Register: Germany May Strike Nazi Sites with DoS Attacks 09-Apr-01 18:31:33 ET
Story Highlights:"German Interior Minister Otto Schily is contemplating a scheme to disable foreign Web sites which pander to neo-Nazis by ordering them struck with denial of service (DoS) attacks…"
* * *
"In response to the high-profile DoS attacks last year, Schily established an Internet Task Force to protect Germany's critical infrastructure…"
---
Wired: The Silence of the Hacked 10-Apr-01 06:38:35 ET
Story Highlights:"Almost every day, Internet news sites break stories about newer and ever-more-dangerous breaches in computer security…"
* * *
"But unless the story involves a virus named after a good-looking tennis star, it probably won't make the national news…"
---
For more of the latest e-business and technology news from around the world, updated 24 hours a day, visit TechNewsWorld.com.
---