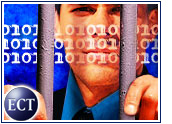 ---
If you do business on the Internet, you cannot afford to be uninformed about the dangers and pitfalls that cybercrime poses. The following is a daily survey of the latest cybercrime news from around the world.
---
ZDNET: BadTrans Virus Fails to Spread 13-Apr-01 15:39:34 ET
Story Highlights:"A virus that monitors a PC's network connections and sends itself in response to any incoming e-mail has apparently failed to spread, despite, or because of, warnings issued by several major antivirus software makers…"
* * *
"'We initially gave it a medium rating, but we expect to downgrade that today,' Susan Orbuch, spokeswoman for antivirus company Trend Micro, said Friday…"
---
MSNBC: How to Secure your Net Security 13-Apr-01 17:38:29 ET
Story Highlights:"It's called Identity Theft, and its a crime thats growing precisely because bad people use stolen credit-card numbers to make purchases…"
* * *
"Its a crime made almost ridiculously easy on the Internet by the fact that merchants have no reliable way of verifying that a buyer is the legitimate holder of the credit card being used…"
---
Irish Times: Stealing the March on Identity Theft 15-Apr-01 19:25:35 ET
Story Highlights:"Abraham Abdallah, busboy and convict, was recently arrested for allegedly gaining access to the bank accounts of 217 celebrities such as Steven Spielberg, Oprah Winfrey and Warren Buffet…"
* * *
"Deception of this kind, 'identity theft,' is an increasing problem online…"
---
ZDNET: Microsoft Wakes up to Security 16-Apr-01 12:00:28 ET
Story Highlights:"It took the globally debilitating 'ILoveYou' virus and its link to vulnerabilities in the Outlook messaging software, but Microsoft Corp. says it has finally seen the error of its ways…"
* * *
"As a direct result of the infamous virus that struck one year ago and wiped out Outlook users' graphics and audio files, as well as bogging down e-mail servers, the Redmond, Wash., software giant has been quietly implementing a far-reaching strategy to build security into every piece of software it develops…"
---
For more of the latest e-business and technology news from around the world, updated 24 hours a day, visit TechNewsWorld.com.
---