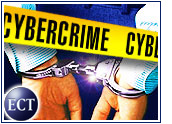 ---
If you do business on the Internet, you cannot afford to be uninformed about the dangers and pitfalls that cybercrime poses. The following is a daily survey of the latest cybercrime news from around the world.
---
The Register: Netscape SmartDownload Opens up PCs to Attack 24-Apr-01 13:04:22 ET
Story Highlights:"A security flaw in Netscape's SmartDownload browser plug-in leaves users vulnerable to attack even if the application is disabled…"
* * *
"The simple act of visiting a Web site with a maliciously constructed URL could be enough for a Trojan horse program to infect the user's Windows PC…"
---
Chicago Tribune: Law Not on Side of Ameritech Hacker 23-Apr-01 00:42:59 ET
Story Highlights:"Earlier this month when a Michigan computer hacker accessed information about customers' phone bills from Ameritech's Web site, he publicized the security breach and was sued by the SBC Communications Inc. unit…"
* * *
"The hacker, Keith Kimmel, of Niles, Mich., vows to be in court later this week to fight the shutdown of his site…"
---
Fairfax I.T.: Chinese, US Hackers Wage Online War 22-Apr-01 20:08:25 ET
Story Highlights:"As tensions rise between China and the United States, computer savvy citizens of both countries have begun to wage their own war on the Internet…"
* * *
"American hackers are urging each other to break into Web sites hosted in China, and claim that U.S. hackers have already penetrated hundreds of…"
---
Ananova: High-Tech Cyber Contest for Hackers 22-Apr-01 07:12:52 ET
Story Highlights:"Thousands of the UK's top computer hackers are competing to win 35,000 in a hi-tech cyber contest…"
* * *
"The competition has been devised to test the impenetrability of software designed to protect businesses from Internet fraud and malicious attack…"
---
ZDNET UK: The Schmoozer: Last Straw for the Evil Hacker Underground 20-Apr-01 15:45:51 ET
Story Highlights:"The scene: the Science Museum, with its bizarre new exhibit, 'Cybercrime,' supposed to expose the 'underground world of hacking' featuring an 'in-depth look at hacker culture' that reveals 'the people behind the stereotypes…'"
* * *
"While, at the same time, of course, shocking visitors with 'the state of the criminal threat lurking on the Internet…'"
---
For more of the latest e-business and technology news from around the world, updated 24 hours a day, visit TechNewsWorld.com.
---