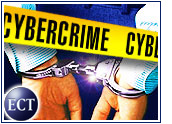 ---
A daily survey of the latest cybercrime news from around the world.
---
Info World: FBI Warns of Chinese May Day Hack Attacks 27-Apr-01 06:45:11 ET
Story Highlights:"U.S. authorities are warning network administrators that U.S. Web sites and e-mail servers might come under increased attack from Chinese hackers next week…"
* * *
"Chinese hackers have publicly discussed stepping up their activity from April 30 through May 7…"
---
Newsbytes: NIPC Warns China Hackers May Target US Sites 26-Apr-01 23:56:12 ET
Story Highlights:"An arm of the FBI that watches for cybercrime and online security threats today warned that Chinese hackers may escalate their attacks on US Web sites and mail servers early next month…"
* * *
"Additionally, US authorities say an Internet worm named 'Lion' with a China connection has been unleashed, and is infecting computer systems with tools to touch off deliberate denial of service (DDOS) attacks…"
---
The Age: US Braces for Chinese Cyber Attacks 26-Apr-01 21:59:12 ET
Story Highlights:"Federal authorities and security companies are warning American businesses to protect themselves next week during a planned 'Labor Day Strike' from Chinese hackers upset over the recent spy plane incident…"
* * *
"The National Infrastructure Protection Centre, the FBI's cybercrime arm, said today that 'Chinese hackers have publicly discussed increasing their activity' from April 30 to May 7…"
---
The Register: Firms Turn to Vigilante Tactics Against Crackers 27-Apr-01 08:01:23 ET
Story Highlights:"Firms are becoming prepared to adopt vigilante tactics against crackers in response to a rise in cybercrime that law enforcement measures alone cannot be expected to control…"
* * *
"That was the conclusion of a panel of security experts at London's Infosecurity show yesterday who warned that the reluctance of business to use the law when they are subject to Internet attack is leading to a state of 'cyber anarchy…'"
---
ZDNET: Many Wireless Networks Open to Attack 27-Apr-01 05:33:17 ET
Story Highlights:"It is a Friday afternoon, and Peter Shipley and Matt Peterson are sitting in a late-model Saturn in a Silicon Valley parking lot, balancing notebook computers on their laps, checking out e-mail and looking after files…"
* * *
"Not their own e-mail and files, but those of Sun Microsystems Inc., in whose lot the two are sitting and on whose corporate network they are, in effect, spying…"
---
For more of the latest e-business and technology news from around the world, updated 24 hours a day, visit TechNewsWorld.com.
---