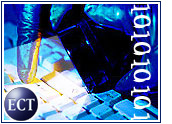 ---
A daily survey of the latest cybercrime news from around the world.
---
CNN: Vivendi: Hackers Wrecked Vote 29-Apr-02 07:05:53 ET
Story Highlights:"Vivendi Universal will launch legal action on Monday against suspected hackers who allegedly interfered with votes at the company's annual shareholders' meeting last week…"
* * *
"The world's second-largest media company said its board would also meet on Monday to call for a new shareholders' meeting for early June…"
---
The Age: Disguise-Switch Computer Virus Sweeping World: Experts 26-Apr-02 16:49:48 ET
Story Highlights:"A computer virus which takes on a new disguise every time it is passed on is sweeping around the world, experts warned today. The Klez virus travels via emails and destroys any anti-virus software it manages to slip through…"
* * *
"As with most viruses, it travels via email attachments and accesses address books once it has been opened. But the cunning computer bug then selects a random name from the address book to send itself under and changes its subject line – making it far more difficult to spot or trace…"
---
The Register: EU To Harmonise Cybercrime Laws 29-Apr-02 05:20:13 ET
Story Highlights:"The Commission of the European Union has adopted a proposal for a Council framework decision that seeks to harmonize the EU's legal response to so-called cybercrimes, including hacking, denial of service attacks and virus dissemination…"
* * *
"The proposal, said EU Justice and Home Affairs Commissioner Antonio Vitorino, 'aims to ensure a common minimum level of criminal law in all Member States' and calls for the mandatory introduction of 24-hour contact points in member states to facilitate the exchange of cybercrime information…"
---
The Register: Cisco and Sophos Spoofed in Virus Mail-Outs 26-Apr-02 17:20:37 ET
Story Highlights:"Cisco Systems has written to users to warn against forged messages containing computer viruses which purport to come from its Product Security Incident Response Team (PSIRT)…"
* * *
"Several forged virus bearing emails apparently from [email protected] have been sent out…"
---
BBC: Employees Seen as Computer Saboteurs 29-Apr-02 03:30:51 ET
Story Highlights:"Digital cameras, MP3 players and handheld computers could be the tools that disgruntled UK employees use to sabotage computer systems or steal vital data, warn security experts…"
* * *
"The removable memory cards inside the devices could be used to bring in software that looks for vulnerabilities on a company's internal network…"
---
For more of the latest e-business and technology news from around the world, updated 24 hours a day, visit TechNewsWorld.com.
---