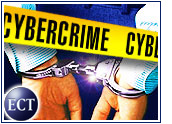 ---
A daily survey of the latest cybercrime news from around the world.
---
The Register: Unix GUI in Heap of Big Security Trouble 12-Aug-02 18:05:21 ET
Story Highlights:"The Common Desktop Environment (CDE) ToolTalk RPC database server contains a vulnerability that could allow a remote attacker to execute arbitrary code on target systems or cause a denial of service…"
* * *
"That's the gist of a warning issued today by security clearing house CERT which lists a variety of *Nix and Linux systems (including those from Caldera, Compaq, HP, IBM, SGI and Sun) as vulnerable…"
---
CNN: Cybersleuths Aid in Child Porn Crackdown 13-Aug-02 09:58:41 ET
Story Highlights:"With Friday's bust of an alleged worldwide pedophile ring and the FBI's recent 'Candyman' sting of child porn Web sites, investigators say they need to become more aggressive and innovative to stop what has become a global, lucrative trade in such illegal material…"
* * *
"But child porn sites like Candyman are nothing new to Dennis Guzzy. A former Philadelphia sex crimes cop, he now trolls the Web for an anti-pedophile task force run by the Pennsylvania attorney general's office…"
---
Wired: White-Hat Hate Crimes on the Rise 13-Aug-02 02:00:14 ET
Story Highlights:"When hackers broke into Ryan Russell's server and plastered his private e-mails and other personal files on the Internet last week, Russell tried to shrug it off as a harmless prank…"
* * *
"But Russell, editor of Hack Proofing Your Network and an analyst with SecurityFocus.com, also seemed shaken by the incident…"
---
The Register: KDE Smokes MS in SSL Bug Fix 13-Aug-02 06:18:02 ET
Story Highlights:"A serious flaw in SSL certificate handling reported by Mike Benham, affecting IE and Konqueror, has already been fixed by KDE's Waldo Bastian…"
* * *
"The fix is available only in the CVS (Concurrent Versions System) tree at the moment, but KDE reckons it will have patched binaries available for its 3.0.3 version, available early next week. A patch for KDE 2.2.x is currently in the works…"
---
For more of the latest e-business and technology news from around the world, updated 24 hours a day, visit TechNewsWorld.com.
---