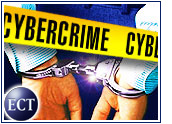 ---
A daily survey of the latest cybercrime news from around the world.
---
CNET: New Viruses Wiggle into IM Chats 14-Aug-01 19:54:12 ET
Story Highlights:"Corey Bates was chatting on his MSN Messenger recently when his high school buddy Trey sent him a winking-face icon. Then Trey sent him another icon. Then another…"
* * *
"Bates, an 18-year-old who will start his freshman year at Oklahoma University this month, knew it was uncharacteristic of Trey to flood him with winking faces — a popular 'emoticon' used to color text-based IM conversations…"
---
CNN.com: Persistent Viruses Sound Industry Alarm 14-Aug-01 19:38:12 ET
Story Highlights:"The almost daily onslaught of computer viruses and attacks is prompting calls in the industry to bolt-in better security at the application development stage…"
* * *
"Experts say if these escalating concerns among users are not addressed, application providers may become legally accountable…"
---
MSNBC: Dont Get Burned! 14-Aug-01 02:08:08 ET
Story Highlights:"High-speed connections present an easy target for hackers because they are 'always on,' thus giving mischief-makers more time to find you and attack your PC…"
* * *
"Even though hard numbers dont exist, the hacker threat is real. Security experts estimate that there are a couple thousand elite hackers around the world…"
---
The Register: IT Giants Whacked by Code Red 14-Aug-01 13:46:02 ET
Story Highlights:"The IT industry has demonstrated its fumbling approach to dealing with major security issues once again with the outbreak of the Code Red worm…"
* * *
"Microsoft feels embarrassed at being caught out by Code Red after so publicly warning the rest of the world about it, then the software giant can console itself that it's not alone…"
---
For more of the latest e-business and technology news from around the world, updated 24 hours a day, visit TechNewsWorld.com.
---