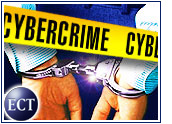 ---
A daily survey of the latest cybercrime news from around the world.
---
ABCNews: Fighting Cyberattacks 23-Aug-02 08:30:25 ET
Story Highlights:"A combination of government warnings and a rise in cyberattacks have prompted U.S. businesses to strengthen their electronic defenses, a new survey from Southern California's Consumer Economics suggests…"
* * *
"Michael Erbschloe, the company's vice president of research, says a variety of factors prompted the 233 companies who responded to the survey to undertake new security measures in the last year…"
---
CNN: FBI Raids Firm After Military Hacking Claim 23-Aug-02 09:25:28 ET
Story Highlights:"The FBI raided a consulting firm's offices after a newspaper trumpeted the company's claims that it found security loopholes in U.S. military computers…"
* * *
"The FBI raided the offices of 4-month-old ForensicTec Solutions over the weekend after the claims were reported Friday in The Washington Post…"
---
ComputerWorld: Secret Service Expands Cybersecurity Task Forces 22-Aug-02 16:22:37 ET
Story Highlights:"Businesses in large cities across the U.S. soon will have a chance to send their IT specialists to quarterly government-sponsored meetings to compare notes with their peers on cybersecurity…"
* * *
"Companies need not worry that they might risk exposing secrets about their systems or about successful attacks against their systems, say members of the government organization facilitating the meetings. That organization is the U.S. Secret Service, and it prides itself on secrecy…"
---
The Register: Worm Spreads Through KaZaA Network, Again 23-Aug-02 14:08:59 ET
Story Highlights:"Virus watchers have discovered the latest in a line of viruses targeted at file sharing networks…"
* * *
"The Duload worm is spreading across the KaZaA file-exchange network, antivirus firm Kaspersky Labs warns today based on reports of infections from Italian internet users…"
---
For more of the latest e-business and technology news from around the world, updated 24 hours a day, visit TechNewsWorld.com.
---