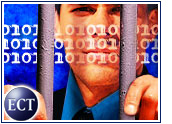 ---
A daily survey of the latest cybercrime news from around the world.
---
Internet.com: McAfee ASaP and SecureWorks Partner on Next Gen Anti-Virus Service 23-Aug-01 13:54:35 ET
Story Highlights:"McAfee, a division of Network Associates (Nasdaq: NETA) Wednesday says its is working with Atlanta-based SecureWorks on the next generation of anti-virus services…"
* * *
"The collaboration will incorporate SecureWorks' next generation network security services including real-time intervention, data fingerprint correlation, and dynamic inoculation technology…"
---
The Register: ActiveX Trojan Dubbed Offensive 24-Aug-01 12:53:54 ET
Story Highlights:"Security experts have issued a low-key alert about a Trojan horse which exploits Microsoft's ActiveX applet programming language…"
* * *
"Called Offensive, The Trojan comes in the form of an HTML file or a Web page on the Internet. Offensive is potentially dangerous, but it appears difficult to become a victim…"
---
Wired: India Hackers Face More Charges 24-Aug-01 06:37:50 ET
Story Highlights:"Two hackers who defaced the website of Mumbai polices Cyber Crime Cell last month are finding that the cops are becoming very interested in them…"
* * *
"After being arrested for the crime of hacking and subsequently released on bail, the hackers found themselves in police custody again, this time for a more serious crime – credit card theft, with most of the victims being Americans…"
---
For more of the latest e-business and technology news from around the world, updated 24 hours a day, visit TechNewsWorld.com.
---