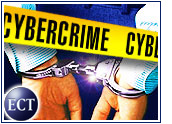 ---
A daily survey of the latest cybercrime news from around the world.
---
The Register: SafeWeb Holes Emerge, Said Fixed 18-Feb-02 11:52:59 ET
Story Highlights:"Late last week Boston University's David Martin and the Privacy Foundation's Andrew Schulman released a report demonstrating the ease with which the SafeWeb proxy could be defeated with Javascript…"
* * *
"SafeWeb no longer offers its free anonymous Web proxy, but it is licenced to PrivaSec, which is offering the service…"
---
N Y Daily News: ID Theft New Face of Crime 17-Feb-02 05:32:59 ET
Story Highlights:"The key is your mother's maiden name. Once computer hackers and other new-age thieves have that, they're halfway home to successfully cloning your identity and stealing a stash of cash in your name…"
* * *
"The other half the rest of your identity is easier to obtain: your Social Security number, date of birth and, of course, your name…"
---
ZDNET UK: Wireless Network Security Shows Cracks 18-Feb-02 06:46:29 ET
Story Highlights:"A new set of security measures aimed at making 802.11-type wireless LANs safe from hackers is fundamentally flawed, according to researchers from the University of Maryland…"
* * *
"Professor William Arbaugh and Arunesh Mishra say in a paper published last week that the new 802.1X security system has two basic problems — one where a hacker can hijack an existing connection, and another where they can interpose themselves during authentication and steal access information as it's being set up…"
---
The Register: Virus Smuggling Risk for Outlook Express Users 15-Feb-02 12:15:41 ET
Story Highlights:"Security researchers have identified a way to smuggle virus laden emails past AV checkers and into the in-boxes of Outlook Express users…"
* * *
"A demo suggests it's possible to send attachments to Outlook Express users using non-standard attachment techniques, by encapsulating the data in Carriage Return () specifiers in the subject line of an email…"
---
For more of the latest e-business and technology news from around the world, updated 24 hours a day, visit TechNewsWorld.com.
---