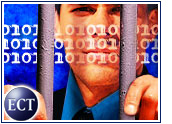 ---
A daily survey of the latest cybercrime news from around the world.
---
E-Commerce Times: Report: Passwords Not Good Enough for E-Shoppers 07-Feb-02 09:10:46 ET
Story Highlights:"The vast majority of consumers who shop on the Web want online companies to do more to verify identities on the Internet, even if it means more work for shoppers…"
* * *
"Current systems, which rely heavily on passwords being remembered by shoppers, do not go far enough, are cumbersome for the fast-growing contingent of older Web users, and generate a large volume of customer service inquiries…"
Full Story on E-Commerce Times
---
ABCNews: Safer Shopping at Your Fingertips 07-Feb-02 10:21:57 ET
Story Highlights:"A Tacoma, Wash., company claims it has devised a hacker-proof way to shop online…"
* * *
"ITI Internet Services, a payment processor that runs PayByCheck, has teamed with biometric company DigitalPersona of Mountain View, Calif., to launch the new system. The technology uses real-time biometric authentication to protect personal information while people shop online…"
---
IDG.net: Antipiracy Tool Leads to DoS in Office for Mac 07-Feb-02 06:56:12 ET
Story Highlights:"A security vulnerability in an antipiracy tool included in Microsoft's Office v. X for the Macintosh can allow an attacker to crash applications in Office…"
* * *
"The vulnerability is in the Network Product Identification Checker component of Office v. X, a tool which checks the local network that the copy of Office is running on for other copies using the same Product Identifier (PID), a number similar to a serial number…"
---
The Register: MS Bitten by Old .NET Vulnerability 07-Feb-02 00:23:15 ET
Story Highlights:"Numerous installations of Microsoft ASP.NET are vulnerable to cross-site scripting (CSS)…"
* * *
"CSS leverages JavaScript and makes it possible to place a malicious URL in an e-mail or on a Web site, which if followed will compromise the user's machine by various means, including exposing shares and/or retrieving data files such as cookies…"
---
Washtech.com: Identity In Search of Security 07-Feb-02 09:06:52 ET
Story Highlights:"Sometimes I forget who I am when I journey online because I have created so many weird passwords and log-in names to register at different Web sites…"
* * *
"My fondness for multiple personalities comes at the urging of security experts, who say varying one's Internet identity is the best way to limit fraud…"
---
For more of the latest e-business and technology news from around the world, updated 24 hours a day, visit TechNewsWorld.com.
---