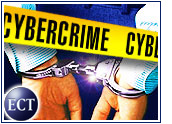 ---
A daily survey of the latest cybercrime news from around the world.
---
ABCNews: Is Cyber-Terrorism Next? 21-Jan-02 08:53:14 ET
Story Highlights:"Terrorists have attacked Americans on airplanes, in buildings, and even those simply trying to open their mail…"
* * *
"And as the war against the al Queda terror network in Afghanistan appears to be winding down, where could the terrorists strike next? Perhaps, cyberspace…"
---
The Register: YIHAT Founder Kimble/Schmitz Arrested 19-Jan-02 19:33:41 ET
Story Highlights:"In the movies, whenever a protagonist gets away with a big heist, we invariably see him passing safely through customs in the Caribbean or southeast Asia as the credits begin to roll…"
* * *
"Perhaps this hackneyed Hollywood device was on Kim Schmitz's mind when he chose Thailand as his hideout from German authorities curious about his KimVestor Ponzi scheme…"
---
Register: Windows Wipe Utilities Fail To Shift Stubborn Data Stains 21-Jan-02 14:36:02 ET
Story Highlights:"Several Windows file-wiping utilities fail to completely wipe some files on Windows NT, Windows 2000 or Windows XP that use NTFS file systems, security researcher Kurt Seifried has discovered…"
* * *
"It's unlikely that users store sensitive information using alternate data streams (which must be 'explicitly created,' as the advisory points out). However alternate data streams can provide a location where attack tools…"
---
CNN: Despite More Spending, Dangers Lurk on the Net 21-Jan-02 11:15:52 ET
Story Highlights:"Spending on Internet security continues to grow, yet the worldwide supernetwork remains more vulnerable than ever to viruses, break-ins and terrorism…"
* * *
"Simply put, hackers are getting smarter, and computer networks are getting more complex and difficult to keep safe…"
---
For more of the latest e-business and technology news from around the world, updated 24 hours a day, visit TechNewsWorld.com.
---