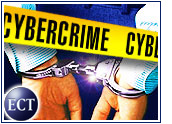 ---
A daily survey of the latest cybercrime news from around the world.
---
E-Commerce Times: Should Enterprises Dump Outlook? 30-Jan-03 08:35:28 ET
Story Highlights:"When it comes to enterprise e-mail, Microsoft Exchange on the back end and Microsoft Outlook on the front end are among the most frequent vectors for viruses and worms…"
* * *
"The cost of downtime as a result of this malware plague is measured in dollars, lost productivity, disrupted communications, and massive doses of aspirin to treat IT administrators' headaches. Is the pain harsh enough that IT administrators are ready to dump Outlook and Exchange?…"
Full Story on E-Commerce Times
---
CNN: Techie Rethinks Disclosing Flaws 30-Jan-03 10:01:53 ET
Story Highlights:"The British computer expert whose research was linked to the weekend's damaging Internet attack pledged Wednesday to reconsider publishing blueprints for attack programs that exploit flaws he discovers in popular software…"
* * *
"Leading researchers have concluded that the software in Saturday's attacks was modified by unknown hackers from blueprints published months earlier by David Litchfield of NGS Software Ltd…"
---
PCWorld: Net Attacks Down, But Sophistication Is Up 30-Jan-03 08:47:15 ET
Story Highlights:"The number of security attacks on the Internet seems to be leveling off after a rocket-like rise during the last decade, but the attacks still happening are more sophisticated, said the president and chief operating officer of security vendor Symantec…"
* * *
"John Schwarz, speaking at ComNet Wednesday, said he didn't have the company's complete data from 2002 yet, but early indications were that the rise in the raw number of attacks has slowed in the last year…"
---
Fairfax I.T.: Cybercrime, They Just Don't Mention it 29-Jan-03 18:01:47 ET
Story Highlights:"Cybercrime, long a painful side effect of the innovations of Internet technology, is reaching new dimensions…"
* * *
"Spurred by a tightening economy, the increasing riches flowing through cyberspace and the relative ease of such crimes, technically skilled thieves and rank-and-file employees are stealing millions if not billions of dollars a year from businesses in the United States and abroad…"
---
The Register: '$1m Hacking Challenge' Product Is Flawed 30-Jan-03 14:50:07 ET
Story Highlights:"AlphaShield's 'unhackable' consumer security device isn't unhackable, Spanish white-hat hackers claim…"
* * *
"In a post to BugTraq, Infohacking.com reports that AlphaShield's appliances are prone to a flaw that could allow a cracker to inject packets into an established session. Potentially, this compromises the security of the device…"
---
For more of the latest e-business and technology news from around the world, updated 24 hours a day, visit TechNewsWorld.com.
---