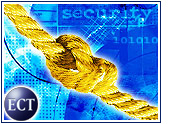 ---
A daily survey of the latest cybercrime news from around the world.
---
E-Commerce Times: Study: Web Security Spending To Surge 19-Jul-02 11:01:11 ET
Story Highlights:"Spending on Web security efforts is expected to triple in the next four years, according to a new report…"
* * *
"The report predicted that security spending will increase 60.5 percent annually to nearly US$700 million by 2006, compared with $65 million in 2001…"
Full Story on E-Commerce Times
---
CNN: Hacking in the Name of Security 20-Jul-02 09:01:30 ET
Story Highlights:"The fraternity of security violators surfaced at a rare meeting of the U.S. computer underground in New York recently that drew 2,000 Internet enthusiasts and security professionals…"
* * *
"Yes, I'm a criminal, my crime is that of curiosity," said "Mentor," a hacking pioneer whose real name is Lloyd Blankenship…"
---
BBC: Yahoo Admits Mangling E-Mail 19-Jul-02 07:01:51 ET
Story Highlights:"Yahoo has admitted that it has been changing some of the words inside attachments accompanying messages sent to users of its web-based e-mail system…"
* * *
"The company said it had taken the action to prevent the spread of viruses. However, critics have said that the filtering system is too crude and is having unforeseen effects…"
---
Internet.com: Will Symantec Keep SecurityFocus' Disclosure Policy? 19-Jul-02 08:46:26 ET
Story Highlights:"The surprise announcement Wednesday afternoon that Cupertino, Calif.-based security firm Symantec would acquire enterprise security threat management system provider SecurityFocus has sent ripples through the security community, with a number of users questioning whether SecurityFocus' highly popular Bugtraq mailing list will lose its editorial independence…"
* * *
"The Bugtraq mailing list, considered by most to be the world's most popular security community, serves as a forum for security experts to exchange up-to-the-minute information on viruses, security flaws and exploits…"
---
For more of the latest e-business and technology news from around the world, updated 24 hours a day, visit TechNewsWorld.com.
---