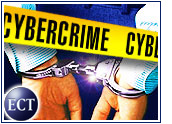 ---
A daily survey of the latest cybercrime news from around the world.
---
Newsbytes: 'Jennifer Lopez Naked' Worm Latest To Lure Unwary Voyeurs 31-May-01 21:39:38 ET
Story Highlights:"A new variant of a self-replicating computer worm is the latest to try to lure voyeurs with the promise of a picture of a naked celebrity, but anti-virus companies are split over how serious or how common it is in the wild…"
* * *
"The Visual Basic Script (VBS) 'JenniferLopez_Naked' worm is attached to an e-mail which presents a pitch similar to those that accompanied the 'Anna Kournikova' and 'Naked Wife' worms…"
---
ZDNET UK: Internet Founder Worried Over EU Cybercrime Plans 01-Jun-01 06:08:15 ET
Story Highlights:"Vint Cerf, a founding father of today's Internet, said on Thursday that European Union plans for new rules to fight crime on the Web risked clashing with existing EU privacy regulations…"
* * *
"Cerf, who helped develop the Internet in the early 1970s shortly after graduating from Stanford University and now works for WorldCom, said more secure network systems were an immediate priority for the successful development of the ubiquitous Web…"
---
The Register: What are Those Words that Trigger Echelon? 31-May-01 13:01:19 ET
Story Highlights:"According to various UK media sources today, the buzzwords said to trigger the US, UK, Canada, New Zealand spying mechanism Echelon have been 'posted on the Internet…'"
* * *
"We haven't found the file and it hasn't popped up on the authoritative site for these sorts of things, Cryptome.org, so we'd not put too much weight behind it…"
---
For more of the latest e-business and technology news from around the world, updated 24 hours a day, visit TechNewsWorld.com.
---