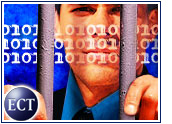 ---
A daily survey of the latest cybercrime news from around the world.
---
ZDNET: Security Pros Dig in for New DoS Attacks 17-Jun-01 21:29:21 ET
Story Highlights:"As vendors such as Asta Networks and Mazu Networks prepare to launch their anti-DDoS solutions in the coming weeks, attackers across the Internet are fine-tuning their tools and creating sophisticated assaults designed to elude even the best defenses…"
* * *
"In addition, those malicious programmers could get a big assist this fall when Microsoft releases Windows XP, which some security experts say provides attackers with a made-to-order launching pad for their DDoS assaults…"
---
ComputerUser: Hacker Turns RTF Exploit Theory into Reality 16-Jun-01 04:55:44 ET
Story Highlights:"An anti-virus company say that at least one hacker has released rogue code that takes advantage of a recently uncovered security hole in Microsoft Word's handling of rich text format (RTF) documents…"
* * *
"Until now, an RTF exploitation that does an end run around Microsoft's built-in checks for potentially malicious Word macros has been theoretical…"
---
The Register: Solar Sunrise Hacker 'Analyzer' Escapes Jail 15-Jun-01 16:12:44 ET
Story Highlights:"The hacker known as 'The Analyzer' was sentenced Thursday in Israel to six months of community service for a series of intrusions into US Defense Department computers that triggered America's first full-blown infowar false alarm…"
* * *
"Ehud Tenenbaum, 22, also received one year of probation and a two-year suspended prison sentence that can be enforced if he commits another computer crime within three years…"
---
ZDNET: New Virus Tools Raise Concerns 15-Jun-01 01:57:36 ET
Story Highlights:"Last week Jonathon Mynott, a technical consultant at security specialist Cryptic Software, said hacker interest was growing in a virus tool called GodMessage…"
* * *
"It will be easy to fall victim once the method becomes popular, Mynott warned. 'You only have to browse a Web page to be infected,' he said…"
---
Newsbytes: Hackers Take Down More Malaysian Sites 15-Jun-01 04:56:45 ET
Story Highlights:"Internet vandals defaced eight more Malaysian government sites, highlighting the lax security and poor maintenance among local network administrators…"
* * *
"A group known as 'Silver Lords' claimed responsibility through the German-based defacement mirror site Alldas.de…"
---
For more of the latest e-business and technology news from around the world, updated 24 hours a day, visit TechNewsWorld.com.
---