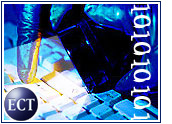 ---
A daily survey of the latest cybercrime news from around the world.
---
The Globe: Jail Teen Hacker, Social Worker Urges 19-Jun-01 18:26:20 ET
Story Highlights:"A 16-year-old computer hacker who crippled major Internet sites such as CNN and Yahoo should spend at least five months in custody because he shows no remorse for his crimes…"
* * *
"And because the teenager, known as Mafiaboy, hasn't acknowledged the seriousness of the attacks in February, 2000 there is a 'moderate risk' he'll reoffend…"
---
BBC: World Bank Risks Attack From Net Protesters 20-Jun-01 11:29:50 ET
Story Highlights:"Plans by the World Bank to avoid protests by moving a controversial conference on to the internet could backfire…"
* * *
"The net-based conference is likely to draw the attention of computer savvy activists and could encourage far more people to join the protests than could make it to Barcelona in person…"
---
Wired: Anti-Virus Board Gets Sick 20-Jun-01 06:36:42 ET
Story Highlights:"For the past four weeks, a Windows-based Trojan program dubbed NewsFlood has been swamping some Internet discussion groups with a heavy stream of bogus child pornography advertisements…"
* * *
"The attack is the Usenet equivalent of a denial-of-service attack. It doesn't destroy files on the victims' PCs and is not designed to automatically infect other systems…"
---
ZDNET: What Hackers Can Teach You About Security 19-Jun-01 12:37:36 ET
Story Highlights:"Malicious users worldwide have graduated beyond interrupting the bidding at eBay with distributed denial-of-service attacks — that's just low-hanging fruit…"
* * *
"These days, hackers are more sophisticated and much more ambitious. They're gunning for the very infrastructure of our society by targeting government agencies, here and abroad…"
---
For more of the latest e-business and technology news from around the world, updated 24 hours a day, visit TechNewsWorld.com.
---