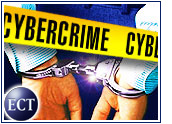 ---
A daily survey of the latest cybercrime news from around the world.
---
IDG.net: Apache Exploit Circulating, Users Urged to Patch 20-Jun-02 11:00:25 ET
Story Highlights:"If users have put off patching their Apache Web servers against the vulnerability discovered Monday, they should wait no longer, as an exploit to attack the security hole is now circulating on the Internet…"
* * *
"The exploit — a tool which makes attacking a vulnerability easier — was posted to the Bugtraq security email list on Wednesday…"
---
MSNBC: Inside a Net Extortion Ring 20-Jun-02 15:06:36 ET
Story Highlights:"'Mr. Zilterio' is hardly shy about the havoc he wreaks at his computer. 'Blackmailing is just a hobby for us, not a business. We like to be famous,' he says…"
* * *
"For over a year, Zilterio has been hacking into online companies and financial institutions, stealing data, then demanding extortion payments…"
---
BBC: Foiling the Fools and the Fraudsters 21-Jun-02 03:06:06 ET
Story Highlights:"Despite all the stories and scares about malicious hackers, computer criminals and destructive web worms, the biggest threat to the security of a company does not come from outside…"
* * *
"Instead, it is employees on the inside who are most likely to cause security breaches by inadvertently spreading viruses, defrauding their employer, wasting time on the net or downloading inappropriate material…"
---
The Register: RSA Touts DIY Certificates 21-Jun-02 06:42:15 ET
Story Highlights:"A new option for web authentication from RSA Security Inc will let businesses manage their own SSL (Secure Socket Layer) digital certificates, instead of having to rely on certificate authority service providers who charge an annual fee per certificate…"
* * *
"The need to reliably authenticate Web servers to visiting browsers, calls for trusted certificates to complete the certificate validation process in a way that is transparent to the end-user…"
---
For more of the latest e-business and technology news from around the world, updated 24 hours a day, visit TechNewsWorld.com.
---