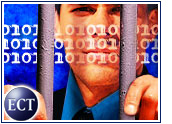 ---
A daily survey of the latest cybercrime news from around the world.
---
ZDNET UK: Russia and China Pose Cyberthreat 22-Jun-01 06:37:39 ET
Story Highlights:"Russia and China appear to be developing computer-based tools with the potential to do long-lasting harm to the US economy…"
* * *
"Such arms will give future foes new leverage over the United States, including a way to ratchet up pressure and the prospect of anonymity, said Lawrence Gershwin, the national intelligence officer for science and technology…"
---
Ananova: CIA Admits: Hackers Are Beating Us 22-Jun-01 06:11:23 ET
Story Highlights:"The CIA has admitted it is not quick enough to respond a hack attack. The CIA's top technology adviser says hackers are developing techniques quicker than the agency can keep up…"
* * *
"Lawrence K Gershwin warned that a terrorist organisation could mount a serious cyber attack within the next six months…"
---
Computer User: CIA Official: Hackers Are Too Fast 22-Jun-01 03:08:14 ET
Story Highlights:"The CIA cannot predict computer attacks on U.S. systems before they happen, as the agency is expected to do with political and military events…"
* * *
"Despite a major increase in intelligence efforts dedicated to computer security, attackers still develop new tools and techniques faster than the CIA can keep up…"
---
ZDNET: Global Treaty – Threat to the Net? 22-Jun-01 07:37:51 ET
Story Highlights:"In the works for nearly a decade, the Hague Convention on Jurisdiction and Foreign Judgments is still almost unknown outside international policy circles…"
* * *
"Nevertheless, it could have broad implications for consumers and businesses by setting new rules for online copyrights, free speech and e-commerce — if it is approved…"
---
For more of the latest e-business and technology news from around the world, updated 24 hours a day, visit TechNewsWorld.com.
---