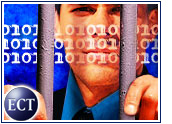 ---
A daily survey of the latest cybercrime news from around the world.
---
Reuters: U.S. Companies Capitalize on Fear of Internet Fraud 06-Jun-01 10:07:36 ET
Story Highlights:"What happens to Oprah Winfrey can happen to you. Yes, someone could try to steal your credit card number and spend your money…"
* * *
"A New York busboy was arrested in March for using public library computers to hack into the brokerage accounts and credit card information of media mogul Winfrey, and financiers George Soros and Warren Buffett. Many con artists stalk cyberspace preying…"
---
The Register: Microsoft Refutes XP Net Instability Claims 06-Jun-01 10:07:36 ET
Story Highlights:"Microsoft has officially responded to claims made by security consultant Steve Gibson that Windows XP threatens the stability of the Internet thanks to its inclusion on Unix sockets…"
* * *
"These 'raw' sockets allow hackers to send thousands of spoof data packets from several PCs at once and launch unstoppable denial-of-service attacks against chosen Web sites…"
---
The Register: Network ICE Hits Back Over Gibson Jibes 05-Jun-01 14:4:21 ET
Story Highlights:"Network ICE has responded angrily to claims by security consultant Steve Gibson that its product, BlackICE Defender is 'lame' and claims that it is 'actually good for something fly in the face of logic and reality…'"
* * *
"Gibson made the strong comments during a widely-read piece on his grc.com Web site concerning DDoS attacks he was suffering…"
---
ZDNET UK: Snow White: Who's Been Sleeping in my Inbox? 06-Jun-01 05:54:03 ET
Story Highlights:"Snow White may be something of a fairytale to most, however, in cyberspace it's a virus which has enormous staying power. This time, she's had a makeover…"
* * *
"The Troj_Hybris.b email virus — otherwise known as Snow White — is a variant of the original virus detected in November last year…"
---
Chicago Tribune: Crop Data Vulnerable to Hackers 06-Jun-01 08:26:30 ET
Story Highlights:"Poor computer security could let hackers break into the federal agency that compiles crop forecasts for commodity traders…"
* * *
"The National Agricultural Statistics Service's computers 'are vulnerable to cyber-related attacks, jeopardizing the integrity and confidentiality of NASS' critical economic data…'"
---
Newsbytes: Virus Hoax Near Top Of Terra Lycos Search List 05-Jun-01 07:22:15 ET
Story Highlights:"A hunger for information about a virus hoax was among the top search targets for Web surfers last week, according to Terra Lycos…"
* * *
"Lycos said the SULFNBK was second on its top 50 search list for the week ending last Saturday…"
---
For more of the latest e-business and technology news from around the world, updated 24 hours a day, visit TechNewsWorld.com.
---