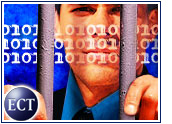 ---
A daily survey of the latest cybercrime news from around the world.
---
The Register: Virus WildList Closed 'Until Further Notice' 26-Mar-02 14:14:29 ET
Story Highlights:"The WildList, a list of viruses currently at large which plays an important role in testing antivirus software, has been suspended indefinitely…"
* * *
"In a message to the antivirus community, Shane Coursen, chief executive of the WildList Organization (which compiles the list), said that March, 2002 WildList will be the last 'until further notice'. Coursen is seeking a full-time position as an antivirus researcher…"
---
ComputerWorld: Authors Pull Proposal on Bug Reports 25-Mar-02 14:15:37 ET
Story Highlights:"The authors of proposed guidelines on how software security holes should be reported to vendors and fixed have withdrawn the document from the Internet's main standards-setting body, the Internet Engineering Task Force…"
* * *
"The draft proposal aims to settle an ongoing dispute among software vendors, users and security analysts over public disclosures of vulnerabilities in products…"
---
InternetWeek: Cable & Wireless/Exodus Updates Security Portfolio 25-Mar-02 14:46:51 ET
Story Highlights:"Cable & Wireless' Exodus hosting business on Monday outlined three new hosted security services aimed at identifying network vulnerabilities and managing security on an ongoing basis…"
* * *
"The company's Essential Security Audit is used to evaluate existing security and preparedness…"
---
ZDNET UK: Hacker Speaks Out on Security Basics 26-Mar-02 08:16:10 ET
Story Highlights:"Security holes exist in just about every application, but preventing an attack can be remarkably simple, says an expert hacker…"
* * *
"'It's simple,' says Rain Forest Puppy. 'Don't feel you have to…take it from Microsoft, just figure out what services lead to security risks and turn them off…'"
---
For more of the latest e-business and technology news from around the world, updated 24 hours a day, visit TechNewsWorld.com.
---