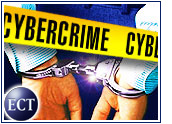 ---
A daily survey of the latest cybercrime news from around the world.
---
CNN: Fierce Cyber War Predicted 03-Mar-03 10:03:44 ET
Story Highlights:"Imagine Iraqi commanders getting misleading text messages on their cell phones. They appear to contain orders from Saddam Hussein but are actually sent by the U.S. military in disguise, directing Iraqi troops to a trap…"
* * *
"Although information operations has been a tool of warfare for centuries, the Internet and other technologies are boosting capabilities — and the stakes…"
---
PCWorld: Microsoft Exec Offers Security Critique 03-Mar-03 08:47:15 ET
Story Highlights:"Listeners praised Microsoft's recent efforts to improve product security and patch management after hearing Scott Charney, the company's chief security strategist, describe them in detail…"
* * *
"But they agreed that Microsoft hasn't yet shown it can reach its own security goals…"
---
The Register: Klez-H Tops Monthly Virus Charts. Again 03-Mar-03 12:16:12 ET
Story Highlights:"The infamous Klez-H was the most common virus circulating on the Internet this month. Again…"
* * *
"Monthly stats from managed services firm MessageLabs show it blocked 366,393 copies of Klez-H over the last four weeks…"
---
TechWeb: Catherine Zeta Jones Worm Causes Mountain of E-Mail 28-Feb-03 16:21:19 ET
Story Highlights:"The computer virus that grabbed the most attention in February was never released on the Internet…"
* * *
"The so-called Catherine Zeta Jones worm, named after the sexy star and Academy Award nominee of 'Chicago,' lit up phones and caused a mountain of e-mail to arrive at anti-virus software maker Central Command Inc…"
---
PCWorld: Job Sites: Hotbed for ID Theft? 28-Feb-03 07:24:59 ET
Story Highlights:"Responding to a growing problem, online job site Monster.com is warning new and existing users about phony job listings that are being used to steal personal information from job seekers…"
* * *
"The company has posted an identity theft warning on its Web site and alerted customers by e-mail, with tips on how to keep their personal information safe, while still supplying prospective employers with what they need to know…"
---
For more of the latest e-business and technology news from around the world, updated 24 hours a day, visit TechNewsWorld.com.
---