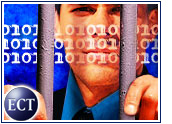 ---
A daily survey of the latest cybercrime news from around the world.
---
Internet.com: IFCC Charges 90 in Internet Fraud Cases 23-May-01 16:53:59 ET
Story Highlights:"Criminal charges were brought against 90 people and companies Wednesday as part of a joint operation between the Justice Department and the National White Collar Crime Center — charged with cutting down on Internet fraud…"
* * *
"Operation Cyber Loss gathered information on more than 56,000 victims of Internet fraud…"
---
E-Commerce Times: Online Fraud: Still an Uphill Battle 23-May-01 18:37:51 ET
Story Highlights:"The forces of digital evil could be lurking nearby at any time. Those forces show up in the form of Internet fraud, and even those who should be protecting you are coming up short in the war on the perpetrators…"
* * *
"Some encouraging news did come Wednesday, when U.S. agencies filed charges against 90 people and companies for allegedly committing fraudulent acts against approximately 56,000 people via the Internet…"
Full Story on E-Commerce Times
---
Newsbytes: White House Confirms Denial Of Service Attack 23-May-01 18:24:58 ET
Story Highlights:"Whitehouse.gov was hit Tuesday by a denial of service attack that rendered the site inaccessible for more than six hours…"
* * *
"The attack, which lasted from roughly 2:00 p.m. EDT until after 8:00 p.m. EDT, created traffic that was 'heavy enough to block most legitimate users…'"
---
Ananova: US Computer Security Team Hit by Hackers 24-May-01 05:58:18 ET
Story Highlights:"Hackers have attacked the website of the US government-backed computer security group, CERT…"
* * *
"The Computer Emergency Response Team is charged with warning government agencies about the latest computer attacks and viruses…"
---
Wired: Viruses? Feh! Fear the Trojan 24-May-01 06:37:11 ET
Story Highlights:"There may be a ghost in your machine — a hidden program known as a Trojan horse — that allows a malicious hacker to spy on you, ruin your data and computer and, in extreme cases, wreck your business or your life…"
* * *
"Attackers have used Trojans to surreptitiously observe the users of infected machines over their webcams, and can also listen to conversations transmitted via the infected computer's microphone…"
---
For more of the latest e-business and technology news from around the world, updated 24 hours a day, visit TechNewsWorld.com.
---