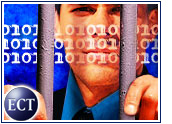 ---
A daily survey of the latest cybercrime news from around the world.
---
CNN: Hackers Say Holes Exposed Retail Data 08-May-02 08:27:56 ET
Story Highlights:"On May 1, an anonymous hacker posted a message on an online security mailing list stating that he had discovered holes in the wireless LANs operated by Best Buy…"
* * *
"Later that day, Jonas Luster, co-founder of security consultancy D-fensive Networks Inc. in Campbell, California, told Computerworld that he had conducted a test of networks operated by a San Jose outlet of The Home Depot and found similar vulnerabilities…"
---
Ananova: Microsoft Says Harsher Anti-trust Sanctions Would Compromise Security 08-May-02 12:36:51 ET
Story Highlights:"Microsoft says criminals could run rampant if a court backs anti-trust measures proposed by nine states…"
* * *
"The company is continuing its efforts to avoid disclosing Windows code to third parties. Microsoft group vice-president of platforms Jim Allchin said the punishment would serve hackers, virus writers and software pirates…"
---
TechWeb: Web Services Insecurity 08-May-02 11:20:41 ET
Story Highlights:"Hopes are running high for Web services, but expectations are bumping into some nasty realities…"
* * *
"The biggest issues are a lack of security and standards. Giga Information Group president and CEO Robert K. Weiler says security solutions and standardsespecially for identity services like Passport and Liberty Alliancewon't be ready until the end of this year, products aren't due 'til the middle of 2003, and industry adoption will have to wait for the end of 2003…"
---
For more of the latest e-business and technology news from around the world, updated 24 hours a day, visit TechNewsWorld.com.
---