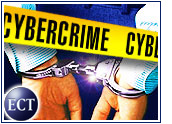 ---
A daily survey of the latest cybercrime news from around the world.
---
The Register: Norton AV Update Rings False Alarm Bells 15-Nov-01 12:58:41 ET
Story Highlights:"Two security software houses have rounded on Symantec, after their products were wrongly said to be infected with Nimda…"
* * *
"The false alarms rang for Installshield and F-Prot Antivirus for Windows, and were caused by poorly written virus definition updates to…"
---
ZDET: Microsoft Issues Patch for IE Hole 15-Nov-01 07:59:33 ET
Story Highlights:"Microsoft has issued a patch for a serious HTML vulnerability in Internet Explorer (IE), which would allow hackers to gain access to a user's cookies and expose the sensitive information that they contain…"
* * *
"The exploit was discovered on November 8, and was reported publicly rather than directly to Microsoft…"
---
The Register: ICANN Ponders DNS Hack Defence Role 15-Nov-01 01:10:18 ET
Story Highlights:"The international body that oversees the Internet's naming system struggled this week to find a role in the war against terrorism by putting one of the Net's weakest links under a microscope…"
* * *
"In a beachside hotel venue secured by plainclothes guards sporting Secret Service-style earpieces, researchers labored Tuesday and Wednesday to explain in excruciating detail the DNS' vulnerability to spoofing, cache poisoning and other, more exotic attacks that hackers have already used to divert traffic from victims' Web sites…"
---
Information Week: DES Final Death Knell? 15-Nov-01 12:13:44 ET
Story Highlights:"Any company still securing its systems with single Data Encryption Standard (DES) encryption may want to rethink its security posture…"
* * *
"Last week, Cambridge computing students Michael Bond and Richard Clayton devised a hack that revealed weaknesses in the Common Cryptographic Architecture API, used by…"
Full Story on Information Week
---
For more of the latest e-business and technology news from around the world, updated 24 hours a day, visit TechNewsWorld.com.
---