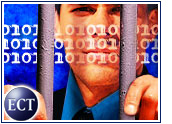 ---
A daily survey of the latest cybercrime news from around the world.
---
Computer User: Allegedly Hacked Bank Denies bin Laden Connection 16-Oct-01 03:08:00 ET
Story Highlights:"A Sudanese bank that allegedly was hacked by anti-terrorist vigilantes denied that Osama bin Laden was ever a founder or shareholder of the bank and said accounts connected to the terrorist leader were closed several years ago…"
* * *
"According to a statement entitled 'Who Owns Al Shamal Islamic Bank' and posted on the bank's Web site, bin Laden was not among a small group that invested $20-million in 1983 to establish the bank, which opened in 1990…"
---
Wired: SirCam: Will It or Won't It? 15-Oct-01 15:21:24 ET
Story Highlights:"Antiviral companies disagree over whether the SirCam virus will or won't detonate on Tuesday…"
* * *
"Analysis of the worm's code indicated that on Oct. 16, the worm is coded to generate a number that has a 1-in-20 chance of matching a number contained in its code. If it matches, some experts said, an infected drive will be freed of all its files…"
---
Computer User: SirCam Oct. 16 Surprise: A Game of "Trashin' Roulette" 16-Oct-01 03:07:52 ET
Story Highlights:"The SirCam worm celebrates a birthday of sorts today. The persistent e-mail hijacker turns three months old and, to celebrate, it has a surprise for some computer users. However, this surprise will be no party…"
* * *
"Anti-virus software companies say that SirCam, best known for its unauthorized e-mailing of randomly selected documents from the hard drives of infected PCs, also packs instructions that can cause…"
---
Computer User: Microsoft to Prioritize Security Bugs 16-Oct-01 03:07:56 ET
Story Highlights:"In an effort to help customers better respond to security threats, Microsoft said it will begin adding severity ratings to its security bulletins…"
* * *
"Under the new severity rating system, vulnerabilities in Microsoft's products will henceforth be classified as either 'critical,' 'moderate,' or 'low'…"
---
For more of the latest e-business and technology news from around the world, updated 24 hours a day, visit TechNewsWorld.com.
---