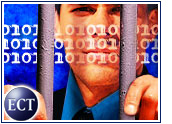 ---
A daily survey of the latest cybercrime news from around the world.
---
E-Commerce Times: How Secure Is E-Commerce? 20-Sep-02 07:31:08 ET
Story Highlights:"Most e-commerce transactions currently are secured by a technology that encrypts data exchanges over the Internet…"
* * *
"While this technology is generally viewed as effective, an increasing number of vulnerabilities and other issues have cropped up…"
Full Story on E-Commerce Times
---
E-Commerce Times: Fighting Back: Dissatisfied Online Shoppers Take Action 19-Sep-02 09:51:24 ET
Story Highlights:"Peeved consumers, who claim online auction sites are unresponsive to fraud, are increasingly taking matters into their own hands…"
* * *
"The cyber-vigilantes are filing more police reports, attempting more often to track down merchants on their own and putting up more Web sites to warn others of merchants they say are unscrupulous…"
Full Story on E-Commerce Times
---
The Register: Flaw in Microsoft VM. Fix Now 19-Sep-02 11:32:19 ET
Story Highlights:"Microsoft has alerted the world+dog to a trio of vulns in its implementation of Java Virtual Machine…"
* * *
"The most serious enables an attacker to gain 'complete control' over a victim's system. So get patching now…"
---
MSNBC: Crypto-Chip Boosts ID Security 19-Sep-02 20:31:57 ET
Story Highlights:"When you send your credit card number over the Internet to pay for a new book or a pair of pants, the number is mathematically disguised — encrypted — so that the original string of digits can be decoded only by the merchant at the other end of your shopping spree…"
* * *
"Such encryption is common, but it isn't entirely secure or practical for all transactions…"
---
Ananova: Hacker Mastermind Suspect Held 19-Sep-02 15:09:14 ET
Story Highlights:"A suspected hacker mastermind has been arrested in a joint operation by Scotland Yard computer experts and the FBI…"
* * *
"The 21-year-old man was held at his home in Surbiton, Surrey on suspicion of writing and distributing what experts described as a 'set of skeleton keys' for getting into company computer systems…"
---
For more of the latest e-business and technology news from around the world, updated 24 hours a day, visit TechNewsWorld.com.
---