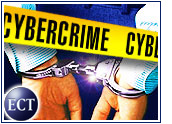 ---
A daily survey of the latest cybercrime news from around the world.
---
ZDNET UK: Copy Lock Shuts Out Music Pirates 06-Sep-01 08:37:53 ET
Story Highlights:"Israeli security company Midbar said on Tuesday that it has inked a deal with a Bertelsmann-owned CD manufacturer to provide copy protection for albums…"
* * *
"Under the agreement, Bertelsmann's Sonopress will use Midbar's technology, dubbed Cactus Data Shield, to thwart potential pirates attempting to illegally reproduce music. The technology comes in three versions…"
---
The Register: A Plague on All Our Networks 05-Sep-01 13:30:33 ET
Story Highlights:"The Internet is alive with virus infections and vendors of antivirus products have wasted no time in informing the world about them…"
* * *
"This is the conclusion we draw from a raft of security alerts, notices and the like which dropped into our in-box or have been phoned through to us this week…"
---
For more of the latest e-business and technology news from around the world, updated 24 hours a day, visit TechNewsWorld.com.
---