Darhon Finance is a comprehensive personal finance program packed with features to manage finances and bank accounts, track credit cards and investments and plan for expenses. It goes far beyond serving as a typical electronic check or bank book register.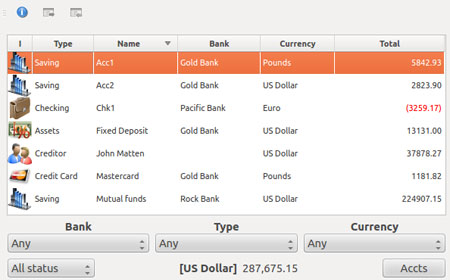 Darhon Finance is a feature-packed money tracking tool.
That leap to being full financial package puts it in the realm of database functionality. That means you will spend a fair amount of time setting up each of your banking and investment accounts piece by piece and field by field.
If all you really need is a program to track your bill paying and bank deposits and manage your finances, numerous better choices exist for the Linux desktop. Darhon Finance does everything other financial programs do plus more.
For example, GNUCash is an accounting package that has much less overhead. KMyMoney is the Personal Finance Manager that operates similar to MS-Money and Quicken. Grisbi can manage multiple accounts, currencies and users. Buddi has very simple features for budgeting, tracking accounts and generating a few personal finance reports.
Darhon Finance is not on the Linux radar in most lists of open source packages. In fact, you will be hard-pressed to find it in most distro repositories other than Ubuntu — and downloading it from there or from the developer's website presents a few obstacles.
The company provides solutions for mobile and desktop devices supporting the Qt framework. It is perhaps more readily known among users of the Symbian, Maemo and MeeGo operating systems for mobile platforms. The Windows and Linux versions of the developer's software are less well known.
Different Approach
I was initially intrigued by Darhon Finance's list of powerful features. It never turns up on searches for Linux financial software so its obscurity also caught my interest.
My enthusiasm quickly wained when I downloaded it and started to set up my accounts in its database. Both of those activities were fraught with frustration and confusion.
Darhon Finance takes time to set up and more time to master, so it is a poor choice if you merely want to keep tabs on your savings and checking accounts.
Getting It
Darhon Finance is available in version 1.3.1, so it is not a newcomer package to Linux per se. Still, it is not readily available from most mainstream software warehouse sites.
I could not find it using the Synaptic Package Manager. Nor does it exist in the Linux Mint Software Manager. I also could not find it in my usual big-name online download sites. I did find it listed in Ubuntu 12.10's Software Center and at the Darhon Finance website.
The download process at both of those locations, however, led to confusion about whether it was available for free or for cash. Within Ubuntu I had to click the Buy button and set up an account with Ubuntu One to download it. It appears that process ultimately would have resulted in a free download, but I did not go that far.
Flexible Licensing
Similarly, the Darhon website itself had similar mixed messages about whether the finance package for Linux was free or for a fee. It was only on the download page that the link specified FREE for the format I needed. Other links said PAID.
In what could become a popular marketing strategy for open source developers, Darhon provides its software depending on platform under either a free or a paid basis under the LGPL license.
LGPL permits developers to license software that links with the LGPL licensed library under different license terms provided certain requirements are met.
This allows the distribution under GNU General Public License (GPL) or Proprietary License of applications that dynamically link to the LGPL-licensed Qt libraries provided. Thus, the same application may be a free in one platform and paid in another one.
Installing It
The download page on the developer's website offers Linux packages for 32-bit .deb and .rpm packages. Using the .deb installer, I had no trouble completing the installation on a laptop running the latest Ubuntu version with the Unity shell and a desktop running Linux Mint 13.
But I ran into a bit of a snafu when I first tried to install the downloaded package by directly clicking on it. That opened the Ubuntu Software Center software and the Buy Button.
I rejected the Ubuntu installer. GDebi did the installation fine.
Bothersome Setup
Unlike other finance software, Darhon requires users to go through a setup process that resembles setting up fields in a database environment. Once the setup is completed, actually using the program is rather simple.
However, the setup is a killer. You first must create a database file from the File/New menu. Once you name the file and click the Save button, a progress bar shows the creation of the database fields.
Then you click on the Data/General menu to create a list of Banks and Types. This is where the process gets prolonged. You need to work through five tabs that include Bank name, the type of account, payees for that account, categories of payments and the transaction class.
Still More
Wait, there is more to do. To finish the setup process, click on the Accounts button to enter the Account's maintainer portion of the database to create your first account.
Start adding transactions by selecting the new account from the Accounts view to open the Transactions view. Then click on the Add menu where you enter a date, payee, amount, category and optional class from the list you created previously.
Then click the Apply button to close the form. This action returns you to the register. The transaction just entered is now displayed with the updated ending balance.
Tools Powerhouse
Despite these shortcomings, Darhon Finance has much to offer in managing personal and business finances. It is very adept at tracking savings balances and recording checks for multiple accounts, credit cards and cash.
I especially like Darhon's ability to customize transactions involving multiple currency systems. You might never need this feature for personal banking, but if you deal with money issues from other countries, this finance package can be a godsend.
For instance, you can access the currency rate from most of the transaction windows. Even better, you can edit the currency rates as you enter a particular transaction.
Banking Bonuses
Similar to dedicated checking software, Darhon Finance lets you reconcile bank statements by assigning one of three different statuses. Mark transactions as Uncleared, Cleared and Reconciled.
You can assign split transactions to register one payee with multiple categories and classes. Plus, you can personalize your views using different date formats and font sizes.
Darhon Finance is ideal for setting up budgets by category and customized financial intervals using class and currency to control your expenses. Use this package to generate reports, charts and histograms filtered by period, type and class. Also, you can edit transactions from the report table by drilling down the register.
Bottom Line
Darhon Finance has more functionality than the average person needs, but if you have numerous financial accounts and a portfolio of assets to oversee, this finance program can be very useful and convenient.
It is not the most intuitive banking software to set up, but once you get used to how it works, Darhon Finance might be worth your time and effort.