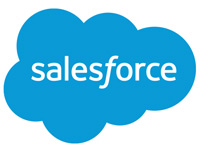 Salesforce held its Connections 2016 user event in Atlanta earlier this month. About 7,000 people attended, but in the Georgia World Congress Center and airplane hangar, attendance seemed smallish.
Attendance might have been held down by Gov. Nathan Deal's slow response tovetoing a religious freedom law largely seen as discriminating against the LGBT community.
This isn't a story about politics, but in the last year Salesforce has been a vocal leader in things such as pay parity for women and its willingness to stay out of states that appear to legislate discrimination. Such positions are not without potential costs for a company like Salesforce, such as messing up event planning and ultimately holding down attendance.
Those costs, however, pale in comparison with what one special guest, U.S. Rep. John Lewis representing Atlanta, reminded a rapt audience of when he recounted his experience in the civil rights struggle.
The governor did the right thing and the event went on as it should have.
Just the Beginning
Connections had a similar feel to other marketing-oriented events that I have attended this year. There was great emphasis on the early successes of marketing automation, especially in the business-to-consumer area, but I got the feeling that we're just getting started, and we are.
In many ways, the panindustry progress we've seen to date represents the low-hanging fruit of modern marketing automation. Adopters are witnessing the easy ability to be more present in customers' decision-making processes with concomitant revenue bumps to reward their efforts.
In other ways, though, we're simply in the early innings of a hype cycle — applying new technologies to old processes — and some of the customer stories reflect this.
Advertising and Analytics
General Motors' OnStar service serves as an example. Powered by the Salesforce Marketing Cloud, OnStar can serve up ads and coupons on its dashboard-mounted display. The idea might be to get a discounted cup of coffee at a store you're approaching.
Another example was Nestle's water division using journey mapping and analytics to remind us to hydrate.
I suppose some of this will be very useful when cars become driverless and we all float along in mobile living rooms, but for now it all seems a bit much. While it's nice to see so much progress and such polished and precise technology, my overall impression at times was of a mighty labor to produce a mouse.
Still, the germ of the idea is that the technology can do an impressive job of identifying need and helping a vendor to satisfy it. Wait until the internet of Things kicks in with all guns firing. At that point, a consumer becomes a device, and these approaches will become essential.
A more practical application came fromPardot, the business-to-business side of the Marketing Cloud, which, when paired with Salesforce Engage on the sales force automation side, can produce quality and actionable leads that sales reps keenly follow up.
Managing sales and marketing in the enterprise is more intricate because decision-makers are people who can do unpredictable things, and analytics-driven marketing makes a world of sense there.
Long-Term Outlook
Perhaps the big news coming out of the conference was the reorganization and uniform naming of Marketing Cloud's elements. A series of studios — including Email Studio, Mobile Studio, Social Studio, Advertising Studio and Web Studio — provide the canvasses for multichannel campaigns.
At the same time, customer data and content are manipulated, merged and supplied to the studio outputs. They include Audience Builder, Personalization Builder, Content Builder and Analytics Builder. Journey Builder sits on top of it all, providing modeling for cross-channel customer approaches.
All of the pieces are in place, and there are good and credible use stories of customers applying these technologies to good effect.
My favorite story came fromNational Australia Bank's mortgage origination group. It takes a long-term view of its customer relationships, following customers for decades, well after closing on a mortgage. In that approach, the bank becomes a trusted financial advisor capable of earning the right to provide additional financial products.
To me, that's what the future of CRM ought to look like, and I have every expectation it will unfold that way. However, for the short term and as is true with any hype cycle, marketers will still need to kiss a lot of frogs before they find Prince Charming.