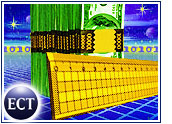 Dell Computer reported Thursday that first-quarter earnings dropped compared with year-ago figures, although the number two computer maker beat analysts' expectations and saw revenue rise.
Dell reported first-quarter net earnings of US$457 million on revenue of $8.1 billion, handily surpassing the $7.9 billion it predicted in April.
Revenue from U.S. consumers remained strong, rising 26 percent from a year ago, Dell executives reported, while combined sales to U.S. education and government customers increased 16 percent.
Analysts' Expectations Realized
Analysts expected a good performance from Dell this quarter, Gartner Dataquest analyst Charles Smulders told the E-Commerce Times.
"Dell has managed to show reasonable growth in every region, which is positive news," Smulders said. "I'm looking at the Asia-Pacific region as very important to them going forward."
Dell reported shipment growth of 8 percent in Asia-Pacific and Japan, while industry volumes excluding Dell shipments dropped 6 percent. Worldwide, the company's product shipments rose 13 percent in the first quarter, even as industry volumes excluding Dell dropped 5 percent.
Company Goals Unchanged
Results in the period were essentially identical to those of last year's first quarter, the company said. Dell lost the number one spot in the computer manufacturing market to Hewlett-Packard as a result of that company's merger with Compaq.
The company reported fast growth in enterprise products, gaining 2 percentage points in server market share worldwide and 3 points in the United States. Dell's U.S. server share reached 30 percent as the company maintained its first-place ranking in that sector, even in the wake of recent industry consolidation.
Despite a year-over-year earnings decline, Dell said its objectives are unchanged: to further reduce costs, to deliver great value to customers and to profitably gain market share.
Operating Expenses Decline
"We did exceptionally well on all counts in Q1," James Schneider, Dell senior vice president and chief financial officer, said in a conference call. "Notably, we've reduced operating expenses to 9.9 percent of revenue, a company record low."
Dell's operating expenses are down from 10.7 percent of revenue in last year's first quarter. The company's operating margin of 7.3 percent is equal to the year-ago level.
Schneider said Dell is on track or ahead of plan in terms of cost reductions in four critical areas: product design, manufacturing and distribution, operating expenses and warranty costs. The objective, he added, is to lower overall costs by more than US$1 billion this year.
Looking Ahead
Dell executives said they expect Q2 revenue could increase 8 percent year-over-year to $8.2 billion, with higher operating margins producing per-share earnings of about 18 cents.
Execs added they anticipate second-quarter industry unit shipments to be off by about 5 percent from the first quarter — consistent with historical seasonal patterns — and revenue will drop by a greater amount.
Still, what analysts view as positive news for Dell does not necessarily translate into positive news for the industry. Dell has been outpacing the market in terms of growth for many quarters.
"The industry is looking to understand what future demand might be," said Smulders. "But I don't think that this sort of result really reveals very much [about] the market."
Dell shares advanced 15 cents ahead of its earnings results, released after market close, to $27.85.