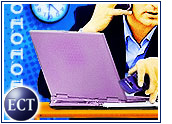 Dell and AT&T Wireless have announced a joint agreement that will allow Dell's mobile computer customers to access the Internet wirelessly using AT&T's GSM (global system for mobile communications)- and GPRS (general packet radio service)-based technologies.
AT&T's offerings can be accessed by purchasing the tri-band Sierra AirCard 750 Wireless GPRS modem, a PCMCIA card that lists for US$300. As a special promotion, Dell is offering the Sierra AirCard for $225 for a limited time.
Mobile Anywhere
"Our customers' time is valuable, and we're committed to providing them a variety of options for wireless connectivity, both local and wide area networking," Anthony Bonadero, director of Dell's wireless product group, said.
Keith Waryas, research manager for wireless business network strategies at IDC, told the E-Commerce Times that Dell is embracing AT&T's GSM/GPRS-based standard because of its increasingly global customer base.
He noted that the GSM/GPRS-based standard, unlike the CDMA (code division multiple access) standard used by AT&T competitor Verizon, has greater global reach. GSM/GPRS is used throughout the United States and Europe and in parts of Asia and Latin America.
"It has the dominant footprint as well as the most subscribers," Waryas said.
Speed vs. Mobility
The services to be provided through AT&T Wireless and the installed AirCard will enable users to connect to the Internet at a data transfer rate of 20 to 40 kbps, about the same as a dial-up modem. Although the service does not offer the broadband-level speeds of 802.11 WiFi, it does enable users to be truly mobile.
WiFi, on the other hand, requires so-called "hot-spots" — access points that are connected to wired networks. In other words, while a user with an 802.11 card may obtain faster connection speeds at an airport or a local Starbucks, the user will not have that same connectivity "while in motion," Waryas said.
Dana Tardelli, research director of wireless services at Aberdeen Group, agreed that AT&T's GSM/GPRS-based standard is far more ubiquitous than WiFi, adding that he was pleasantly surprised by the announcement.
"It works today, and there's a retail model for it," Tardelli told the E-Commerce Times. "I think it's a good idea on Dell's part."
Dell also has left the door open for its customers to choose among various options. By putting the wireless capability on a PCMCIA card, the company has given users the ability to swap it with either a WiFi card or a card supporting CDMA standards.
Value in Mobility
Waryas went on to say that development of wireless Internet capability is a moving-target process, marked by massive upgrade cycles of short duration.
"All major carriers are seeing value in this business," he said.
AT&T will offer Dell customers a variety of wireless plans, ranging from 10 MB to more than 100 MB of data transfer per month, at rates starting at about $30 per month for service.